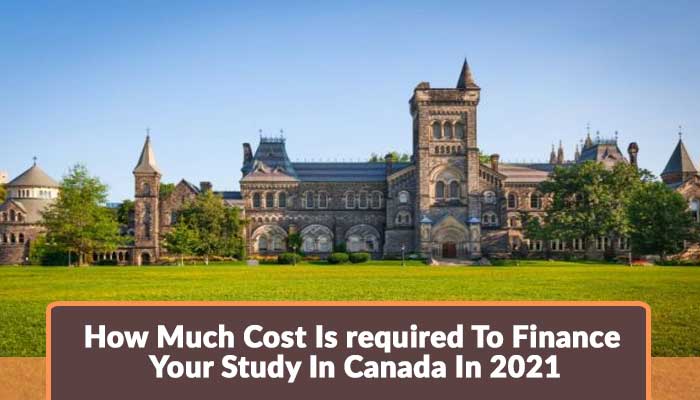 Because of its lush landscapes, amazing cities, and soothing environment, Canada has become the most favorite study abroad destination for international students. Moreover, as a house of the worlds' leading universities, it also attracts international students. Canada always makes international students the wonderers because of its campuses that are nestled between the marvelous mountains and are offering a dramatic view.
Furthermore, with the idea that with the higher education degree from Canada one can avail of the opportunity of bright career anywhere in the world, Canada encourages international students to start their higher education journey from Canada. But before going to apply for the Study in Canada, the one major aspect to know is the cost of study in Canada. In 2017, it has been reported that an international student required spending an average cost of CAD$ 19,500 to fulfill their tuition and accommodation costs. However, here we come with the updated cost of study in Canada.
Canadian Universities Tuition Fee
The following chart is showing the complete idea about the tuition fees in Canada for several study programs:
| | | |
| --- | --- | --- |
| S#. | Study Program | Study Cost |
| 01. | Undergraduate program | CAD$ 29,714 per year |
| 02. | Postgraduate program | CAD$ 17,744 per year |
| 03. | MBA Program | CAD$ 27, 397 |
| 04. | University Application Fee | CAD$ 100 to CAD$ 500 |
Students who are going to study undergraduate courses with the programs including dentistry, medicine, and law, etc. will have to pay a higher tuition fee. However, on the other hand, students with subjects such as social sciences, humanities, and education programs, etc. will have to pay cheaper tuition fees.
Moreover, the university application fee depends upon the university for which you are going to apply and keep it in mind that the university application fee is non-refundable.
Canada Visa Fee
International students are required to have a temporary travel visa to get entrance permission in Canada for study purposes. However, students, who want to get engaged in working activities during their studies will be required to get an additional work permit. This Canada work permit allows students to work for 20 hours a week. The following is the fee chart for the Canadian student visa and Canadian work permit:
| | | |
| --- | --- | --- |
| S#. | Visa Category | Visa Fee |
| 01. | Study Permit/ Temporary Travel Visa | CAD$ 150 |
| 02. | Work Permit | CAD$155 |
Living Cost In Canada
Living cost in Canada is, somehow, expensive. A student has to spend almost CAD$ 10,000 yearly for living that is excluding accommodation. But, international students are allowed to work part-time in Canada which makes international students possible to support them financially. However, through the following chart, one can easily get the complete idea of living cost in Canada:
| | | |
| --- | --- | --- |
| S#. | Category | Cost |
| 01. | Accommodation (On-Campus) | CAD$ 3,000 to CAD$ 750 |
| 02. | Accommodation (Off-Campus) | CAD$ 8,400 (without bills) |
| 03. | Meal At Restaurant | CAD$ 15 to CAD$ 17 (one time) |
However, for all other additional activities including gym, internet, public transportation, and health insurance, etc. an international student requires to spend almost CAD$ 1,000 monthly.
Apply For Study In Canada
Students who are willing to start their higher education journey from Canada and are searching for the right platform, they can start their application for Study in Canada today from Studyaborad.pk. Here you can meet with the expert and professional consultants for study in Canada that will not only guide you properly but will also complete your study application until the final commencement of your program in your desired Canadian university.
X
FREE STUDY ABROAD

Free study abroad expert advice