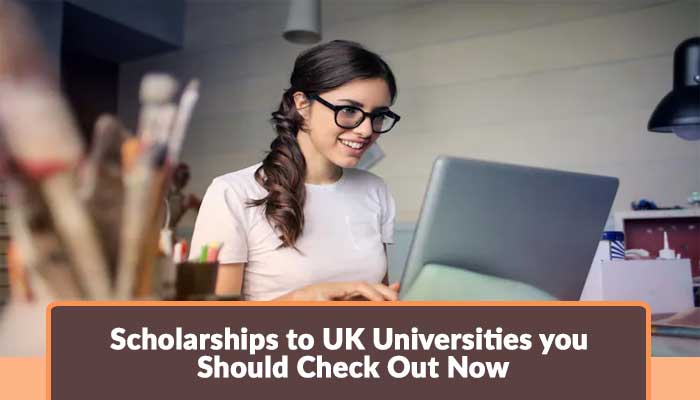 Home to more than 150 higher educational institutions including the world's most prestigious universities and top ranking educational institutions, United Kingdom has become one of the most popular study abroad destinations for international students. According to the Times Higher Education World University Rankings 2021, University of Oxford is on the top, whereas Cambridge University stands at 6th position. Degrees from any of the prestigious institutes of United Kingdom can open doors of great career opportunities for you in future. The enticing number of degree programs and the alluring scholarships that higher educational institutes of United Kingdom offers is the core reason of the soaring number of international students in UK. These scholarship programs are a great opportunity for international students as these programs cover the education expenses and ease the financial burden of students who want to Study in UK. Here are a few scholarships you should check out if you want to study in UK.
Chevening Scholarship is labeled as a competitive and prestigious scholarship which is offered to the international students in UK. This scholarship is funded by the Foreign, Commonwealth & Development Office and other prestigious organizations.
Through Chevening Scholarship complete financial support is provided to those who aspire to study any Master's degree in any university of UK. Students with bright academic record and exceptional leadership qualities are eligible to apply. To apply for this scholarship it is compulsory to have completed all components of your previous Bachelor's degree in order to be accepted for a postgraduate program in any higher educational institute of UK, and you should also meet the English language requirement.
The applications for this scholarship are currently closed as the last date to apply for Chevening Scholarship 2021-22 was November 30th, 2020.
The Developing Solution scholarship is specifically designed for the students of few selected countries of Commonwealth. The host institution for this prestigious scholarship program is University of Nottingham.
Any international student with a dream to pursue a Master's degree from University of Nottingham can apply for this scholarship. The Master's degree should be completed in any of the following subject areas like Faculty of Engineering, Faculty of Medicine & Health Sciences, Faculty of Science and Faculty of Social Science. Students who have completed their previous courses from their home country are preferred.
This scholarship program covers almost 50-100% of your tuition fee and the deadline to apply for Developing Solution Scholarship is May 21st, 2021.
Funded by the Foreign, Commonwealth & Development Office (FCDO), UK, commonwealth scholarships are offered to students who show remarkable academic record. Students from developing commonwealth countries who are interested in pursuing a Master's and PhD degree program from UK are eligible to apply for Commonwealth scholarship. In order to apply you need to be a permanent citizen of Pakistan, you should be financially unable to support your study in UK if you want to apply for the Commonwealth Scholarship program.
The deadline to apply for Commonwealth Scholarship 2021-22 is 26 April 2021 whereas all the supporting documents must be submitted by 10 May 2021.
Rhodes scholarship program is funded by the Rhodes Trust at Oxford University and is known to be the oldest and the most prestigious international scholarship program in the world. This is an international postgraduate award for those international students who study in the prestigious University of Oxford.
Through this program 100 fully funded scholarships are provided to international students and this program is offered for postgraduate courses like Master's and PhD degree programs. Your need to have a completed undergraduate degree before applying for Rhodes scholarship. The applications are currently closed for this scholarship program.
Chancellor's International Scholarship at the University of Warwick
Chancellor's International Scholarship is known to be a very competitive scholarship program as it is offered to only limited number of international students, as for 2020-21 entry only 30 lucky international students who demonstrate academic excellence will be awarded the Chancellor's International Scholarship (CIS). This fully funded scholarship opportunity is offered by the University of Warwick which is known to be public research institution. The CIS program is offered for PhD course only and to apply for this scholarship the applicant should already have applied to study the course. The applications for CIS program are currently closed.
X
FREE STUDY ABROAD

Free study abroad expert advice