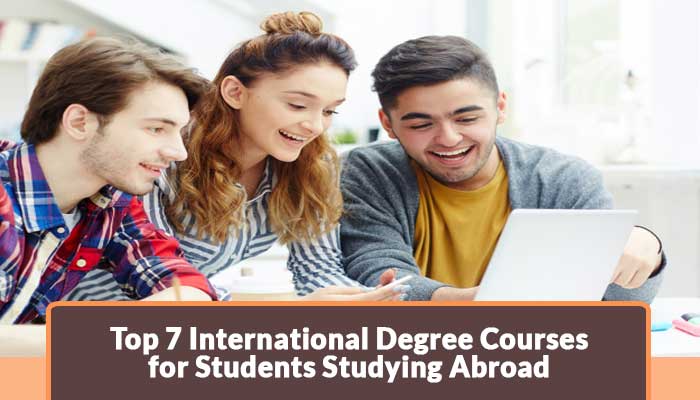 In these trying times of the pandemic everybody wants to have save cash for the rainy days ahead. International students who want to avail study and work abroad scholarships and those who want to know about study and work abroad programs are always in search of the latest news and information regarding the best place to study and work abroad.
All the students who wish to work and study abroad who wish to succeed in their lives as successful engineers, businessmen, technicians, IT engineers or artists by successfully getting the desired job in the relevant industry. As the needs of the international industry are rapidly shifting so are the challenges regarding work and study abroad 2021.
International students field of study preference
According to survey regarding international students field of study with regard to country published in year 2020 "Business and management were chosen by international students residing in Australia, Poland, Chile, New Zealand and Japan while Engineering subject was chosen as most popular field by students residing in Russia, Germany and United States during the same year 2020".
According to a survey regarding leading specialization fields of international students in the year 2018-2019 "Engineering subject was chosen by approx. 17.7 % international students in the academic year of 2018-2019"
According to a survey regarding the field of study of international students from China in the year 2019-2020 "business management programs were chosen by approx. 17.2 % students "
According to a survey regarding the field of study of International students enrolled in leading Universities of Italy; "Economics, industrial engineering and computer engineering along with medical programs and juridical studies were most popular in the year 2020-2021".
Students wishing to study abroad should consult their local regional educational centers for guidance and consultation regarding international study programs.
Best international work and study abroad programs for the year 2021 are listed as follows
One of the most popular degrees is Master of Business administration around the world that account for approx. 60% of universities worldwide. MBA being favorite among students who want to succeed in today's economy.
Business administration is the third most popular study area among international students. MBA gives students the skills to improve a company's annual performance and take decisions that will move it forward. Students who take business administration usually study different areas of business studies including business communication, business law, Managerial Economics, Entrepreneurship, Marketing, HRM, Business law and Supply chain.
In this age of digital computing the value of Computer science cannot be ignored as everything has gone digital. Computer science opens the door to many industries.
Master in Computer science has increased in demand around the world due to technological advancements around the world. Students who take Computer science usually have algorithms, programming and coding included in their international degree curriculum.
Master in Economics
Economics deals with understanding and studies of reasons why societies prosper and the reasons behind it. Being one of the favorite disciplines of international students offering different career choices from research, business and public administration. International students of Economics curriculum include Microeconomics, Macroeconomics, Econometrics, math for Economists and Probability & Statistics.
Engineering is one of the most popular subjects among international students. Engineering is essential to our world as the whole world relies on engineering for the improvement and smooth running of all devices and machines.
Engineering is one of the challenging degrees regarding international students but has various array of future career possibilities. Engineers being quite high in demand around the world. Engineering courses that international students study include Electrical engineering, Aerospace Engineering, Biomedical Engineering, Civil engineering, Mechanical engineering and Environmental engineering.
Master Data science
In today's world of digital relevance, the value of data cannot be underestimated. International students studying data science are called data scientists. Data science has various specialization programs and vast opportunities for growth.
Data science is one of the most highly paid field and career choices in today's world. Natural language and Data mining are some of the various learning avenues. International students who have good decision making power usually study data science. Various programming languages like C#Visual Basic, Python and Ruby on rails are usually included in the curriculum.
One of the most popular international degree courses. International students need to show keen interests in the medical field. Medicine degree programs consist of specialization in healthcare and medicine ranging from clinical, surgical or focused on specific disease.
Medicine degree programs include various aspects of healthcare including management and planning. Curriculum of Degree of medicine includes Biochemistry, Anatomy, Introduction to clinical and community medicine, Neuroscience, Microbiology and Immunology, pathology and Pharmacology.
Cyber security has become a topic of world importance as the whole world is constantly being threatened by hackers. Hackers are constantly attacking various world wide organizations everyday.
Cyber security professional's known as ethical hackers help world organizations to fix their security flaws and secure their companies from outside attack. One of the highest paid careers for experts in the field of cyber security
X
FREE STUDY ABROAD

Free study abroad expert advice