consultants in Karachi
Become top Consultant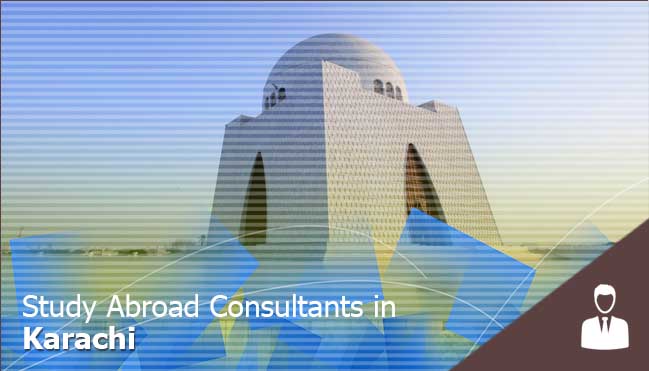 Are you searching for the best opportunities in town for studying abroad, then you've come at the right place. Karachi is one of the most famous, populous urban city of Pakistan holding a number of consultants, but finding the best and genuine one is a great ordeal.
But we've got you covered,! StudyAbroad.pk is a site where you can find a number of registered consultants in Karachi who will help you pave the path for a prosperous future. The website is made for Pakistani Students.
StudyAbroad.pk provides a clear picture of Best Study abroad agents in Karachi; just a click and the whole of the profile of a consultant will be opened, which will include the consultant's complete office adress and the services provided by him. And the main thing is that it is completely FREE of cost, our main aim is to provide the best advice to Pakistani students, without much effort. StudyAbroad.pk also helps you get information about various tests accepted abroad, for example IELTS, TOEFL, GRE, SAT and GMAT. Moreover, this website will also help you to find the best universities abroad and in Pakistan and the best scholarships.
To further ease Pakistani students, Study Abroad is introducing its mobile app, and then you are just a click away to a bright future.
Following is a list of all our Consultants registered with StudyAbroad.pk
Go check them to find the best consultant in Karachi.
Consultants List
View Complete List
The city has an estimated population of 2 crore and 35 lacs people. Karachi is the third largest city in the world for its population. Karachi city is the center of Pakistan's industry, shipping, automotive industry, banking, advertising, software development, medical research. Karachi is graded as a beta world city.
Firstly it was the capital city of Pakistan until Islamabad was constructed as a capital city in arranges to spread progress evenly across the country and to prevent it from being determined in Karachi.
The city is considered as a hub of higher education in South Asia and in the Muslim world. Karachi is one of the most educated cities of Pakistan. It has the highest literacy rate along with a sum of enrolment ratio of 111%, the highest in Sindh.
Education in Karachi is divided into five levels:
Primary (it starts from grade one to five);

Middle (grades six to eight);

High (grades nine to ten, leading to the Secondary School Certificate);

Intermediate (grades eleven to twelve, leading to a Higher Secondary School Certificate);

And university programs leading to undergraduates, graduates and advanced studies. Karachi has both public and private educational institutes.
The majority of Karachi students have a wish to study abroad. There is a massive audience of Karachi that goes to study abroad in different countries. Karachi is the city where education trend is available and people likely to send their children's for foreign studies. There is also a network of consultants who provides consultancy to the students who aimed to study abroad.
Many of the famous educational institutes offers foreign scholarships for their bright students. Many educational expos, seminars and student sessions are organizeed to guide the students for foreign studies. Different universities participate in these events and provide basic and necessary information to students related to study abroad.
X
FREE STUDY ABROAD

Free study abroad expert advice