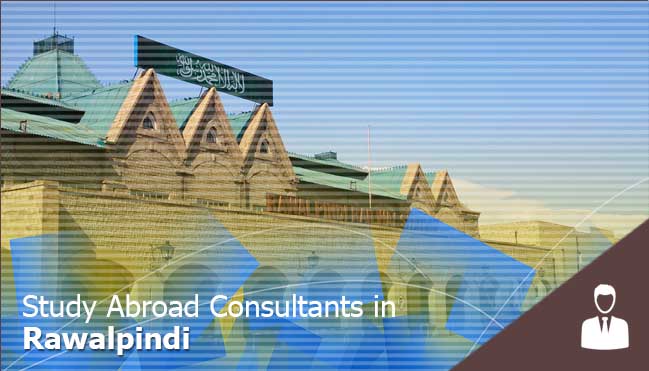 Studying in abroad miraculously changes the living standards and ideology of students. Pakistani students set out t the journey of living in distant land away from family to seek international standards of education in abroad. Foreign education endows many personal and academic improvements in profile of Pakistani students. To achieve greater career opportunities, foreign degrees are high valuable and instrumental. To access study abroad benefits, Pakistani students require diligent visa procedure handling. In order to successfully attain visa for foreign study, study abroad consultancy is immensely useful.
Study Abroad Consultancy in Rawalpindi
Study abroad top consultants in Rawalpindi are best advisors for university and study programme selection because of their inclusive information and experience. They have alliance with foreign universities and updated awareness of latest requirements for admissions. In visa procedures, the professional guidance of registerd study abroad consultants will further help you in arrangement of documents and legal approvals which is not at all smooth. Most of the Pakistani students find it exceptionally hard to appear in visa interviews, study abroad consultants have this sorted for you also, they will provide interview coaching and prepare you for possible interview questions. Since Pakistani is financially under developed country, foreign visa attainability for Pakistani students has numerous specifications. Study abroad best consultants in Rwalpindi raise your chance of visa success by providing insightful information of newest policies.
Study Abroad Agents in Rawalpindi City
Pakistani students of Rawalpindi city can now contact study abroad consultants located in their premises through our website. We have enlisted all the top rated and highly professional study abroad top consultants of Rawalpindi here for guidance of Pakistani students. Without requirement of searching elsewhere on web, you can take complete contact information, phone numbers, website links and email addresses of different study abroad consultants in Rawalpindi from here and make final decision for whose services you are going to take for your study abroad procedure.
consultants in Rawalpindi
Become top Consultant
Consultants List
View Complete List
If you are looking for consultants in Rawalpindi, you most probably are well aware of this City. Study Abroad has a number of registered consultants in Rawalpindi. These consultants have been providing their services, helping many students achieve their life time dream of Studying Abroad for many years.
All Study Abroad consultants have their full profile on our site. You can click any Consultant and you will have their complete information including their address and services. Following is a list of all our Consultants registered with StudyAbroad.pk.
You can see more detail and amazing pictures of Rawalpindi below Consultants' list.
Rawalpindi famous as Pindi; is a city in the Pothohar region of Pakistan near the country's capital city of Islamabad, in Punjab province.
This city is the fourth largest city of the Pakistan. In 1950s, Rawalpindi was smaller than Hyderabad and Multan, but the city's economy customary increase during the construction of Islamabad (1959–1969).
Rawalpindi is considered as the northernmost part of the Punjab province, to North West of Lahore. It has the position of administrative seat of the Rawalpindi District.
The total area of the city is about 108.8 square kilometers. Rawalpindi is the military headquarters of the Pakistani Armed Forces.
Rawalpindi has the second highest literacy rates in the country. It's about 80% and considered second only to the capital, Islamabad's 87%. People of Rawalpindi can easily communicate in Urdu, and a major portion also understands and speaks English very well. Potohari is also the ordinary local language; however other Punjabi languages such as Hindko, Saraiki, Pahari and Dhani are also understood quite well.
Education in Rawalpindi has a plural rule. The children's of army officers mostly goes for study abroad and there is also a high business class who wished to send their children's for foreign studies.
There is also a network of universities which provides various programs leading to graduate and advanced studies. Rawalpindi has both public and private educational institutions. Utmost educational institutes are gender based, from school to university level.
Most of the students aimed to continue their studies in foreign institutes. A network of consultant is available for those students who want to go abroad for study purpose.
Consultants also present their services to students in the shape of education expos, education exhibitions, seminars and students sessions. In these types of students get proper guidance & information related to study abroad.
X
FREE STUDY ABROAD

Free study abroad expert advice