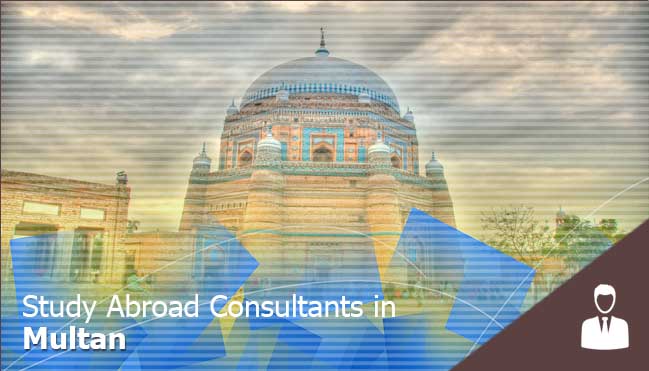 Study abroad agents typically work by providing a range of services to students who are interested in studying abroad. Study consultants in Multan advising on the best countries and universities to study in based on the student's interests, academic background and career goals. Study visa consultants in Multan also assisting with visa requirements, including helping students understand the documentation needed and providing guidance on how to complete the visa application process.
Top Study Abroad Consultants In Multan
Some agents are commissioned by universities or educational organizations, other works independently and have agreements with multiple institutions or have a tie-up with a specific university. Study abroad agents can help you to save time and energy by handling all the research and paperwork, and ensure the process runs smoothly, giving you peace of mind and allowing you to focus on preparing for your study abroad experience. It's important to research and compare different consultants and agencies before choosing one. Some of the best consultants for study abroad in Multan are as follows
ZENUX GROUP UK

Alliant

Fortune Consultant

Linx Network International

OZ Consultancy Services – Multan
consultants in Multan
Become top Consultant
Consultants List
View Complete List
Multan is a city in Punjab, Pakistan. It is Pakistan's fifth major city by population and has an area of 133 km. The city is situated on the banks of the Chenab River in the geographic center of the country.
Multan is considered as the City of Saints because of the large number of shrines and Sufi saints are in Multan. The city is comprehensive with bazaars, mosques, shrines, and ornate tombs.
Multan is located in a twist created by five rivers of central Pakistan. The Sutlej River split it from Bahawalpur and the Chenab River as of Muzaffar Garh.
The city has grown-up to become a powerful political and economical center for the country, with a dry port and outstanding transport links. Multan is especially famous for its crops: wheat, cotton and sugar cane, mangoes, citrus, guavas, and pomegranates.
A consultant network is also working for guiding and providing information to students for study in foreign countries. They specially organize different types of events, seminar and expos to facilitate the students. Mostly renowned or big names arrange these types of events. A consultant actually guides students about your study track in abroad.
The population of Multan has a literacy rate of 58% approximately, with a division of male 60% and 56% for females. This stat shows that people of Faisalabad city are interest to get education.
Various educational institutes offer different opportunities to their bright students for study in abroad. Some offer national or some offer international scholarships. Bahaeed Din Zakriya University is considered as the best universities of Multan.
Study in abroad is the dream of every students and mostly student wants to peruse their studies in foreign countries. Study in abroad can flourish the career of students and boost up their living standards in foreign countries.
X
FREE STUDY ABROAD

Free study abroad expert advice