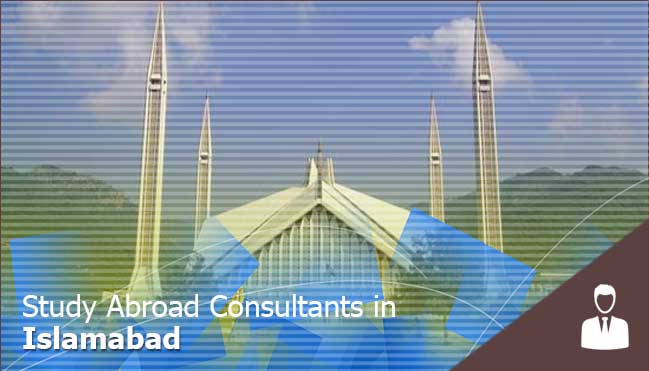 Islamabad is a modern, well planned and maintained city situated in the Pothohar Plateau in the northeastern part of Pakistan.
If you are looking for consultants in Islamabad, you most probably are well aware of this City. Study Abroad has a number of registered consultants in Islamabad. These consultants have been providing their services, helping many students achieve their life time dream of Studying Abroad for many years.
All Study Abroad consultants have their full profile on our site. You can click any Consultant and you will have their complete information including their address and services. Following is a list of all our Consultants registered with StudyAbroad.pk
consultants in Islamabad
Become top Consultant
Consultants List
View Complete List
The region has traditionally been a part of the crossroads of Punjab and Khyber Pakhtunkhwa with the Margalla Pass acting as the gateway between the two regions.
Islamabad is an ordered international city divided into various sectors and zones. It is famous due to the most developed city in Pakistan.
The city is residence to the Faisal Mosque, the largest mosque in South Asia and the fourth largest mosque in the world.
Islamabad boasts up the highest literacy rate in Pakistan at 87%, and has higher educational institutes in the country. A large number of publically and privately educational institutes are available here. The higher education institutes in the capital city of Pakistan are either federally chartered or administered by private organizations and almost all of them are documented by the Higher Education Commission of Pakistan.
Students of Islamabad believe that education is a right and not an opportunity and that study abroad experiences can lead to positive change not only for you, but also for your family, community and country. This is why they people wants to study abroad.
There is also a series of scholarships for students of Islamabad offered by the foreign universities of different countries. Most of the universities of Islamabad offered many scholarships to their student nationally or internationally.
In Islamabad, there is a massive audience belongs to politicians, bureaucrats, technocrats, business man and many other big parties. They all people are highly educated and they send their children's for study abroad.
There is also a high class network of study abroad consultants who provides services to different class of various students. All they consultants organize or arrange different education expos, seminar, or students sessions in which they guide the students and give them information about various universities offers for them.
X
FREE STUDY ABROAD

Free study abroad expert advice