consultants in Quetta
Become top Consultant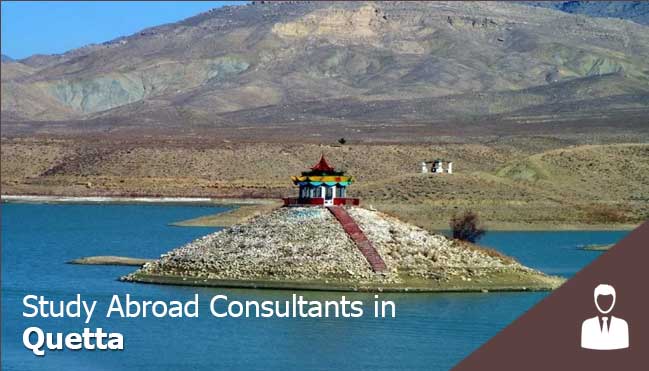 Studying in abroad is massive opportunity of getting best quality of education, learning a foreign language, knowing different cultures and developing an attractive academic profile. Pakistani students have keen interest in getting foreign education from top ranking universities to achieve greater success in life. In prospect of studying in abroad, many Pakistani students are in search of proper guidance and accurate information about best universities in abroad, admission requirements and visa procedures. To get detailed information about studying in abroad, Pakistani students can take professional guidance of study abroad top consultants in Quetta.
Study Abroad Agents in Quetta Provide Advice and Guidance on Executing Visa Procedures
Study in abroad is an elaborated process which has many steps and details. First of all, Pakistani students will have to find out best university in abroad for study programme of their interest, understand its admission process and submit applications on time. Later process will start after admission acceptance letter which also very extensive. For Pakistani students, the visa requirements of each country are different. The Pakistani students will require providing legal approval letters from minis try of foreign affairs, medical examinations, English language tests sores, verified photocopies of academic documents, foreign accommodation bookings, health insurance coverage, bank statements and travel arrangement proof to the foreign Embassies. In this entire process, the guidance of an education, well informed and experienced consultant is required in order to avoid wastage of money and time.
Study Abroad Registered Consultants in Quetta
Pakistani students can explore the following list to get contact details, office addresses, website links and phone numbers of study abroad best consultants in Quetta city. The following enlisted consultants have been providing career counseling and travel consultancy professionally for many years. You can gather the information about study abroad process from them and commence your application process.
Consultants List
View Complete List
Quetta is the largest city in, and the provincial capital of, the Baluchistan province of Pakistan. Known as the Fruit Garden of Baluchistan due to the variety of its plant and animal wildlife,
If you are looking for consultants in Quetta, you most probably are well aware of this City. Study Abroad has a number of registered consultants in Quetta. These consultants have been providing their services, helping many students achieve their life time dream of Studying Abroad for many years.
All Study Abroad consultants have their full profile on our site. You can click any Consultant and you will have their complete information including their address and services. Following is a list of all our Consultants registered with StudyAbroad.pk.
You can see more detail and amazing pictures of Quetta below Consultants' list.
Quetta is situated at an average altitude of 1,680 meters (5,500 ft) above sea level, making it Pakistan's only high-altitude major city.
The population of the city is between 896,090 and 2.8 million, which makes it the 6th largest city in Pakistan.

Quetta is considered as the capital and largest city of Baluchistan province of Pakistan.

It is also known as the Fruit Garden of Baluchistan due to the variety of its plants and animal wildlife.
Sitting in northern Baluchistan near the Durand Line border with Afghanistan and close to Kandahar province, Quetta is a trade and communication center between the two countries as well as an important military location which occupies a strategic position for the Pakistani Armed Forces. The city lies on the Bolan Pass route which was once the only gateway to and from South Asia.
Quetta has a number of institutions of higher education. Group of Islamia Schools which was quoted by Quid e Azam as Chota (Small) Federal Government (FG) Degree College Madrassa Road Quetta CanntAli Garh University (Which was one of highest rated university of Indo Pak). Famous Tameer-e- Nau Public College which has always led in HSSC Board position Top spots in Baluchistan Board of Education. The military Command and Staff College was founded by the British in 1905, its centennial was celebrated in 2005.The city is home to the University of Baluchistan established in 1974, Baluchistan University of Information Technology, Engineering and Management Sciences, (BUITAMS) Sardar Bahadur Khan Women's University, Bolan Medical College, Agricultural institute, the Geological Survey of Pakistan, and Historic the Sandeman Library and many government and private colleges.
X
FREE STUDY ABROAD

Free study abroad expert advice