consultants in Sialkot
Become top Consultant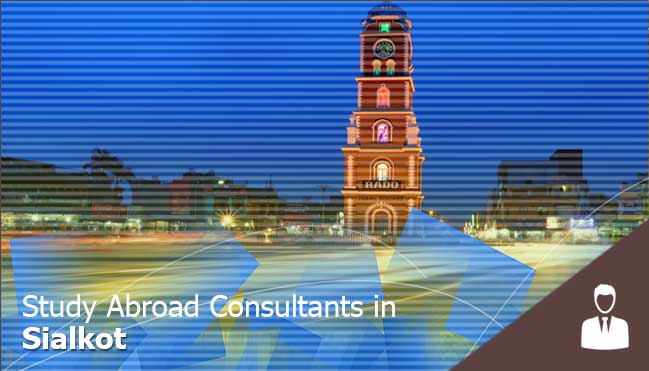 There are extensive numbers of Pakistani students who struggle to accomplish their study abroad goals and due to improper planning fail to avail the chance. To study in abroad, Pakistani students require executing step by step process with perfection under specific timelines of admissions and visas. The visa procedures are complex and lengthy; you will deal with arrangements of authenticated documents, medical examinations, bank statements and language requirements and much more. For greater chances of admission and visa approval, study abroad consultants in Sialkot can help you immensely.
What Services Study Abroad Consultants Offer?
With guidance and consultancy of study abroad best consultants, in Sialkot this rather complicated procedure can be simplified. From choosing which country in abroad will be suitable for your selected course to arranging documents for admissions, the study abroad consultants handle each level with professionalism. Conducting admissions and visa process without professional assistance is signing up for failure. In each step of the study abroad process, you will invest time and money but without guarantee of success.
You can take load off from your shoulders by taking services of study abroad consultants and increase your chances of visa attainment. The study abroad consultants providing their services in Sialkot city have been added in this exclusive section for aid of our prestigious Pakistani students. These consultants have registered agencies and some of them have been serving for years. By signing up with them, you can make your study abroad quest achievable with simplification.
Study Abroad Registered Consultants in Sialkot
The study abroad agents in sialkot have updated and latest information of visa requirements of countries abroad, their services includes arrangement of documents on time and ensuring submission of visa applications with absolute refinement. The study abroad consultants educate the students, where their money should be invested and which track they must follow instead of going around the circles and wasting your resources on futile methods. The list of all renowned and sought after study abroad consultants is available here with contact details.
Consultants List
View Complete List
Sialkot is situated in the north-east of province Punjab and 13th largest populated city of Pakistan.
If you are looking for consultants in Sialkot, you most probably are well aware of this City. Study Abroad has a number of registered consultants in Sialkot. These consultants have been providing their services, helping many students achieve their life time dream of Studying Abroad for many years.
All Study Abroad consultants have their full profile on our site. You can click any Consultant and you will have their complete information including their address and services. Following is a list of all our Consultants registered with StudyAbroad.pk.
You can see more details and amazing pictures of Sialkot below Consultants' list.
Sialkot is the city of multi ethnic people and have honored of being a birthplace of various noted personalities. Sialkot is also famous of sport equipment's.
Sialkot has a impartially well-built educational infrastructure that contains many sub campuses of different and famous educational institutes.
It includes sub campuses of university of management and technology, Virtual University of Pakistan, Fatima Jinnah Women University, 5 Degree Colleges for Men, 8 Degree Colleges for Women, 6 Commerce Colleges, 2 Cadet Colleges, one Medical College, one Law College, one Nursing School, one Homeopathic Medical College, one Para-Medical School, one Poly-Technic Institute with numerous Higher Secondary Schools, Inter Colleges and over 250 High Schools.
The educational environment is Sialkot is good and a number of students are willing to studying in foreign countries after completing their undergraduate or postgraduate studies.
Many big names on education consultants are present in the city of Sialkot to help out the students regarding studying abroad.
Study abroad consultants have their offices in Sialkot to assist the students regarding information of international universities their fees, admission process, visa assistance, education environment and many other questions regarding studying in foreign universities.
X
FREE STUDY ABROAD

Free study abroad expert advice