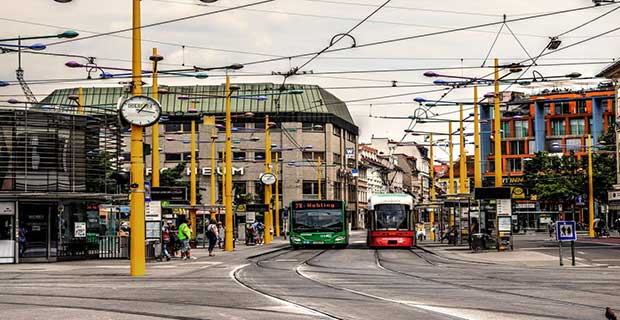 Not all Austrian Universities offer on campus accommodations. As the matter of the fact majority of international students in Austria reside in private dormitories or flats and apartments. The average rents per apartment or room are managed by Provincial Governments of Austria so that no individual including international students has to pay more than 20 to 25 percentage of their salary on accommodation. The accommodation options in Austria for international students are plenty and on reasonable monthly rents. You can have modern and comfortable apartments located in main cities or in small towns. Also note that accommodation must be arranged before you travel to Austria as it is an obligation of student visa of Austria.
The transportation services of Austria are perfectly spread throughout the country covering all 23 districts. Whether you opt to live in small a town far from main city or live in central locality of an urban city like Vienna, travelling won't be an issue. You can travel from your residence to your university and to your work by using amenity of public transport with comfort and reach everywhere on time. Here are different types of accommodation available in Austria for International Students: (Visit Admissions Section to Know Requirement of Austrian Universities)
Dormitories
The city of Vienna has been nominated as one of the best cities for international students in the world. Mostly international students are resided in Vienna as the top ranked universities of Austria are located there. On yearly basis around 190,000 international students live in Vienna. Here are types of Dormitories available for students in Vienna. Same kinds of dormitories are also available in Graz, Klagenfurt, Salzburg, Innsbruck, Linz and Leoben.
Base 11
Base 11 is a modern student apartment in a dormitory which will cost € 495 / month rent. It is room for a single fully furnished with private bathroom and a separate kitchen. Another single room available in dormitory of Base 11 with the same amenities but without private kitchen will cost you € 460 / month. The dormitory is near city with only two minutes walk away from city shopping center and 10 minutes walk away from public transport.
House Meidling
You can get a room in HOUSE MEIDLING dormitory where the monthly rent will be € 385 / month including breakfast. You can have amenities of Internet, Fully furnished common kitchen with Microwave, Fridge, private Bathroom, and Common Laundry, Bicycle storage space, Study room and Leisure room.
Donau Double Studio
A single room in DONAU DOUBLE STUDIO dormitory will cost € 510 / month. The room will be fully furnished, private kitchen with microwave, fridge, private bathroom, balcony, combine laundry room, leisure room, study room, free Wi-Fi, own basement and proximity to public transportation.
Kabelwerk
It is shared room accommodation in dormitory which will cost you € 350 / month. The room will be furnished with two beds, pillow, kitchen, private bathroom, internet facility, common laundry and bicycle parking facility. It is near to public transport.
House Donaufeld
A single room for one person in HOUSE DONAUFELD dormitory will cost you € 365 / month. It has facilities of free internet; room is fully furnished, a private bathroom, bed and blanket provided by dormitory. The communal facilities include fully equipped kitchen, bicycle parking area, laundry room, small gym, study room and leisure room. It is located near to central city.
Base 22
A single divided room in BASE 22 dormitory will cost € 430/month with common kitchen and bath. A single mini-apartment in Base 22 dormitory will cost € 455 / month. The apartment will be fully furnished with private bath and kitchen. The communal facilities include free internet, laundry, fitness room, leisure room, study room, common rooms, bicycle parking space and common kitchen fully equipped with fridge, stove and microwave. It is centrally located just a few minutes' walk from city shopping malls and public transport. Modernly styled and clean.
House Burgenland 1
A double bed room in HOUSE BURGENLAND 1 dormitory will cost you € 365 / Month. It has bed, blanket, pillow, bathroom and free internet. Common dormitory facilities for all include fully furnished and equipped common kitchen with fridge and microwave, laundry room, bicycle parking, table tennis room, gym room, TV rooms, leisure room, study room and terrace. Public transport stations are located in a few minute walk.
Base 19
A single room with complete privacy at BASE 19 dormitory will cost you € 395 / month. The room has private bathroom, free internet and fully furnished with required furniture. It has common kitchen with fridge and microwave facility, study room, garage, leisure room, small fitness room, study room, laundry and bicycle storage room. It is just 10 minutes walk away from University of Vienna.
House Dr. Rudolf K.
A double bed room in HOUSE Dr. RUDOLF K. dormitory will cost you € 385 / month. It has free internet, fully furnished furniture, private bathroom and with bed, blanket and pillows. It has common kitchen, Television rooms, Internet room, Music room with piano, GYM, Coffee bar, Party room, Seminar room and Bicycle storage place. It has proximity to Vienna's Main Train Station.
House Burgenland 3
A double bed room in HOUSE BURGENLAND 3 dormitory will cost € 365 / month. The room is fully furnished with furniture, has bed and blanket, free internet, private bathroom. Common facilities include: Laundry Room, Sauna Room, Room for events, Table tennis, Music room with piano, GYM, Big garden, Bicycle storage place and Garage. It is just few minute walk away from Vienna's west train station.
Private Housing
If not in dormitories, you can choose private housing options in Austria. Private housing can be rented or sublet in Austria, in any location you want to reside. Austria has an inexpensive accommodation facility and you can book private accommodation through online websites. Owners of student's apartment have specifically designed shared rooms, private rooms, apartments and studio apartments in a style and comfort level that could fit preferences of students. The apartments and rooms have facilities of present day and furniture of latest fashion. The private accommodation will give a true picture of Austrian lifestyle. It is high standard, fashionable, luxurious and facilitating. Here are some private housing options in Austria:
Shared Rooms
You can find a shared room accommodation in central location of city. It will be fully furnished with beds, desk and study chair, and a private bathroom. Monthly rent will be 385 Euros. The bills of electricity, water and heating are included in the rent. You can share the room with one of your class mates or friends and divide your daily chores. You can choose the location of your accommodation near to your work or university to avoid travelling expenses. Majority of international students use bicycles in Austria for their day to day travel.
Private Room
A private room for one student fully furnished, located in the central city will monthly cost 420 Euros bills included. The students who prefer privacy and quiet atmosphere can enjoy this facility. You can find private rooms for rent posted at websites or contact real estate agent. The owners will take 2 months rent in advance as a security.
Studio Apartment
A studio apartment with a furnished room, kitchen and a sting area, balcony and bathroom can be rented in 592 Euros to 790 Euros a month. This small studio apartment is perfect comfortable apartment for your stay. Though it is expensive option than other accommodation options but it has facility of freedom and easement. You can cook meals which you like, decorate the room as you like and have quiet time to focus on your exams and quizzes.
Private Apartment
A private apartment has its own luxuries and comfort. You can invite your friends over for combine study and presentations. It has a terrace, laundry with washing machine, sitting area, private garden, balcony and fully furnished kitchen with fridge, stove, dishwasher and micro wave. The room is contemporarily designed has a closet, bed, desk and chair. Luxury comes with a price. The rent of a private apartment is 850 to 1000 Euros per month with bills included.
X
FREE STUDY ABROAD

Free study abroad expert advice