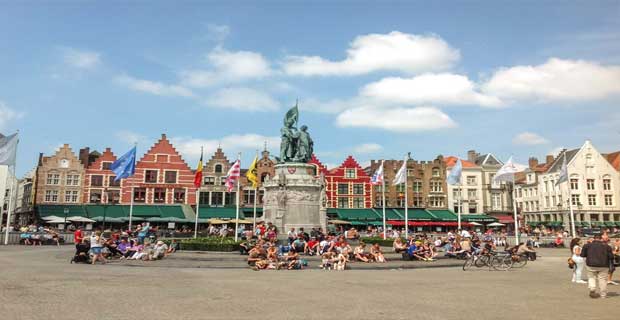 Many nations in the world claim as the heart of the Europe but the Belgium is more neraest to truth. If you want to experience a student life in the multicultural and multilingual environment then must go for Belgium. It is considered one of the safe and peaceful country with a quality education. Belgian universities offer a number of affordable study programs at every academic level. Thus, it would not be wrong to say that Belgium is one of the most student friendly destination for those who intend to pursue higher education as a result of which more and more students are drawing towards it.
A unique experience embedded with historical and festive heritage
Belgium has been home to a timeless heritage and vibrant palaces alluring millions of tourists towards it round the clock. It is an ideal place for students to indulge into a cup of steaming cocoa with chocolates that melt in your mouth along with snuggling in a blanket .Thus, it provides a perfect escape when the load of studies dawns upon a student or in case they are in need of a much needed break.
An opportunity to dive into the world of picturesque beauty
Belgium is known for its mesmerizing beauty which can be seen around at every nook and corner providing the students with an unforgettable experience to cherish for lifetime.
Low cost of living in comparison to other European countries
The cost of living in Belgium is relatively lower providing an added advantage to the students. In addition to this, it is a home to some of the top universities which includes University of Ghent, UCL, University of Brussel and University of Antwerp.
Diverse courses being offered to students
Belgium is a hub for the students exploring the innovative programs such as MBA programs which are known as EMBA programs and have become popular amongst students within no time. Moreover, this program opens up numerous employment opportunities for the students enabling them to build a successful future ahead of them.
Outstanding Quality of life
Belgium is one of those countries which is known for its remarkable quality of life that it has to offer along with a festive culture and a vigilant security system. It is a city which allows the students to indulge into the number of enticing attractions other than to study as it is flocked with grandeur castles, colorful gardens and lush green parks.
An effective transportation
Belgium is equipped with a locatable public transportation which is spread all over the country. Not only has this it provided an access to the prime locations of Europe such as London, Paris and Amsterdam by train in two hours.
Grant of Scholarships and lower education costs in Belgium for International Students
Belgium is one of those countries which offers wide range of scholarships to international students focusing on the students from the developing countries along with students from other international countries too. Most of these scholarships are government funded or private ones from which the students in need of financial aid can benefit to amajor extent.
X
FREE STUDY ABROAD

Free study abroad expert advice