Study abroad in Belgium for Pakistani students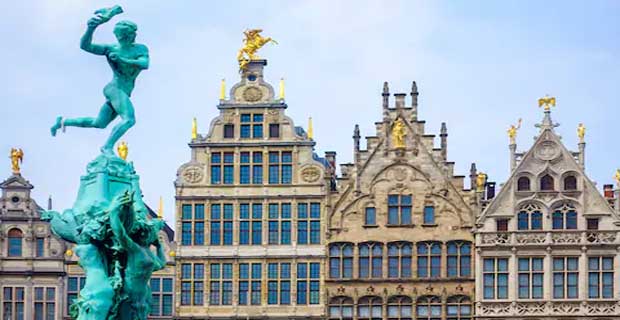 2021 Belgium Boarders and Visas Covid Updates 2021
Belgium Visa procedures are close Until April 18th 2021
Belgium is located in the West of Europe. Students from around the globe and other European countries travel to Belgium for higher education because of its reputation and recognition. You will meet French, German, Turkish, Romanian, Spanish, Portuguese and Bulgarian students studying in Belgian Universities. Belgian Universities offer a wide range of English taught programmes for international students as well but the main medium of education will be Dutch or French. The higher education institutes have excelled in all educational streams ensuring inclusive knowledge, skills and mastery in fields adopted by students. The rich history of Belgium will give you a true European experience and insight into renaissance period. Studying in Belgium will not only upraise your career prospects but also become source for self enhancement and enrichment at many levels. If you are planning to pursue your higher education in Belgium, the following guide is assembled to give you information about general requirements of study abroad in Belgium:
Admission Requirements of Belgium Universities for Pakistani Students 2021
Admissions in Belgian universities are granted on merit base. The admission requirements will be notified to student upon submitting online application with detail. However, overall 72% grades in previous degrees will be required at least for admission in under graduate or post graduate study programmes. The candidates also have to prove their proficiency in the language which is medium of instruction of their chosen study programme. For English taught study programme, 6.5 are minimum bands required in IELTS test and Grade C is minimum grade accepted in Cambridge Certificate of Proficiency. These are the minimum academic requirements for admissions; it may differ from programme to programme and universities in Belgium. For admission in medical, veterinary, IT and business management study programmes the minimum grades would be 80% overall. The universities have their own entry requirements, SAT and ACT tests are also set as compulsory entry requirement for admissions by many Belgian Universities.
Student Visa of Belgium Process for Pakistani Students 2021
You will be emailed an acceptance letter if you meet the academic eligibility and successfully attain admission in the University of Belgium. The acceptance letter serves as invitation letter from university in Belgium to submit fee and apply for student visa. You will visit the Embassy of Belgium or Consulate in your home country for details about student visa. The student visa requirements will not be the same for every country. Generally, all international students are required to submit following documents for student visa of Belgium:
Completed student visa application of Belgium

Valid passport of applicant (must be valid till the duration of your study programme)

Bank Statement (Confirming you have enough financial resources to cover your living and study expenses in Belgium)

Medical Examination Certificate

Clearance Letter from Police Station

Transcript of Academic Records

Language Proficiency Test Certificate

Proof of Accommodation in Belgium

Receipt of Paid Tuition Fee and Original Acceptance Letter from University
Permanent Residency Visa of Belgium for Pakistani Students 2021
The process of permanent residency visa of Belgium is dependent on employment contract from any Belgian firm or company in accordance to your academic profile after completing your degree. Firstly, you can extend your student visa (A Card) duration for more 12 months for job search. In this period you can do part time jobs to bear your living expenses and post CVs at firms related to your degree majors. There are three types of Resident Permit Cards applicable to candidates according to their employment contract, professional skills and qualification. You can apply for permanent residency of Belgium after residing there for one year legally and not being absent for its land I this duration. The permanent residency categories applicable for foreign candidates are as follows:
Electronic residence card type B

Electronic residence card type C

Electronic residence card type D
Study and Living Expenditure in Belgium for International Students
Study Expenses:
The tuition fee in Belgian Universities is different for EU and Non EU nationals. The Belgian Government runs several scholarship programmes to facilitate and encourage international enrollments in their universities on merit and academic excellence basis which is assess through entrance examinations. On average for admission in post graduate study programme the per year tuition fee will be around 1000 to 4000 Euros for Non EU students. There are three regions in Belgium and universities of each region have different tuition fee charges. In Walloon Region of Belgium, a full time post graduate study programme will cost around 850 Euros per year, in Flemish Region the tuition fee will be nearly 2500 Euros for post graduate programme and in Brussels Region the tuition fee will be higher than other regions.
Living Expenses:
Belgium is one of the affordable countries in Europe. The students can manage their living expenses in Belgium due to part time working permission and Government controlled minimum per hour wage. The urban cities like Brussels, Antwerp, Ghent and Leuven are expensive places to live for students but most of the universities are also located in these cities. The accommodation rent in mainstream cities of Belgium may vary according to location, accommodation size and furnished and non furnished facilities.
University Resident Halls Monthly Rent: in 200 to 400 Euros

Private Room in Flat or Apartment Monthly Rent: 500 Euros

Two Bedrooms Apartment Monthly Rent: 700 to 1000 Euros
Food:
On average you can expect to spend 200 to 300 Euros monthly on food and beverages for one person if you cook yourself. Eating out would obviously be expensive and you can't afford it on daily basis. Rates of some daily use beverages are enlisted below for your estimation of living expenses in Belgium:
1 kg boneless chicken is 4.97 Euros

1 liter of milk bottle is 1.04 Euros

A Pack of dozen eggs is 4.32 Euros

1 kg of tomatoes is 1.97 Euros

1 kg of apples is 2.10 Euros

A loaf of bread is 1.34 Euros
Transportation Rent:
A student's pass for monthly travel in public transport will cost around 50 Euros.
Part Time Working Permission and Post Graduation Work Opportunities in Belgium
Part Time Work:
Belgium has allowed international students to work part time during their university years. However, it is compulsory for students to attain a work permit which will be valid for a year at first and can be renewed for another year according to duration of study programme. To attain work permit the students would be required to follow the following procedure:
File application for Work Permit C Type at Department of Economic Migration

Submit Required Documents (The list of documents required to attain work permit C type of Belgium for part time work are enlisted in this article)
The student gaining a work permit receives all the rights and benefits as indigenous employee does. Part time working hours are 20 hours a week allowed during semesters and full time working hours are allowed during semester breaks.
Post Graduation Work:
Like many European countries, Belgium is generous enough to allow international students extend their student visa for one year even after their degree is completed. During this duration, you get a chance to get hold of an employment position in Belgium that pays you enough to bear your accommodation, living and health care expenses. By getting an employment contract you can apply for permanent residency of Belgium which will be granted to you according to your profession, employment position and qualification.
Belgium Student Health Insurance:
If you stay in Belgium you need a visa. And to apply for visa you have to apply for the health insurance. Students need the Health insurance to travel from their country to Belgium for study. Here you can find out the best and affordable packages for the Health insurance.
Latest Scholarships in belgium
Master of Science in Photonics Engineering VUB Scholarships for International Students in Belgium
For Bachelors in the fields of Medical & Pharmacy
Apply by

31 Aug 2022

Hasselt University Announced Scholarships In Belgium For International Students 2022-2023
For Masters in the fields of Art & Design
Apply by

30 Mar 2022

PhD Scholarships in Restoring Binaural Hearing in Children with Single-Sided Deafness, Belgium
For PhD in the fields of Engineering&Technology
Apply by

28 Feb 2022
Study Abroad Consultants for belgium
| | | | |
| --- | --- | --- | --- |
| | C&W Resources | +92 51 5172 033 | Rawalpindi |
| | Future & Success Consultants | 03335318010 | Lahore |
| | Future & Success Consultants Pvt Ltd | 03335318010 | Karachi |
X
FREE STUDY ABROAD

Free study abroad expert advice