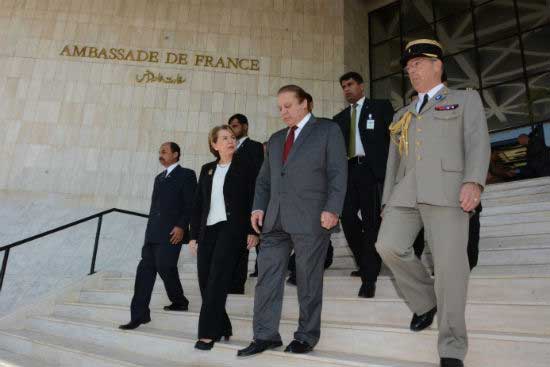 Once your admission is accepted in a French Institution, you have to pursue the visa formalities. Students have to submit their visa applications to the French Consulate in their country. France has designed different categories of depending upon the period of stay. Let's check the eligibility and category of each French Visa.
Main Categories of French Student Visa:
The French Government offers two broad categories of student visa for non- European students
Short stay visa

Long stay visa
Short-stay student visa
This type of visa is generally not intended or students who wish to complete years -long degree programs in France . However, those students who are registered in a short course like language course or other short-term program in France can apply for short term visa. This type of visa allows simple transit through France, once outside "international zone" at any airport:: This visa allowed you to stay in France for a maximum period of 90 days. No residential permit is obligatory with this visa .However, this free of charge visa could not be renewed and. This free of charge visa could not be renewed and the student has to return back to his home country when the 90 days, approx 3 months of his/her stay are over. Schengen counties citizens are exempted from this visa and they can enjoy visa free travel. However non-European visitors who want to travel in other Schengen countries in addition to France, for less than 90 days can apply for a Uniform Schengen short stay visa.
The "Student Contest" short stay visa
This short stay visa is issued to students who visit France for attempting an entrance exam, interview or competition in France. It is issued to the non-European students. It allows you to visit France to pass an entrance exam, a competition or admission interview in a higher education institution. If the exam is qualified and admission is accepted, the student with the "Student Contest" short stay visa can apply for a student residence permit or long stay visa without returning to the home country. However, in case of failure, student will have to leave France as soon as he/she got the disqualifying result.
Long Stay Visa
Temporary long-stay visa
This is a non-renewable visa. It allows the student to stay in France for a period of three to six months. It does not require any residential permit. Students who are in France for completion of a short course within duration of 3 to 6 months or studying in France on an exchange semester can apply for this temporary visa.
VLS-TS' Long-Stay Visa: Visa de long séjour etudes
These types of visas are called VLS-TS' visa. Students who have applied in French Universities to complete their degree programs like bachelors, Master's or doctoral program require this category of visa. In this case, students have to stay in France for more than six months. This long stay visa allows the students to stay in France till their study program is completed. This visa period will cover three years for bachelors program stay, two years for a Master's degree program and four year-PhD program. Long-stay visa itself acts as a residence permit.
Extended stay research scholar visa
The Master's degree or doctorate program enrolled students who are pursuing research or teaching at French universities can apply for this specific visa category. This is, in fact, an extended stay research scholar visa VLT-TS. A valid hosting agreement from the relevant institution is required to apply for this visa. The stamped agreement defines the student's assigned work during the stay in France. This stamped agreement is the mailed to the respective French consulate of student's home country along with a proper visa application VLT-TS.
Visa Fee: The applicants have to pay the amount in dollars for single entry the amount is 112 dollars or 99€ however this amount is subject to change according to Origen currency exchange rates.
Visa Processing Time: The processing time of visa takes around 12-15 days. In case of incomplete or faulty documents the period might extends.
Important Points to Be Noted
Remember that the long stay VLS-TS visa is initially valid for around 3 months. Students need to renew the visa who wants to stay for the entire degree program completion period. Students in fact need a renewal every year.

Moreover students who want to stay in France after completion of their degree program have to apply for a different visa through the immigration office.

Students should apply at least 3 months before the beginning of their study course

Students have to wait for a maximum of 60 days to receive the final decision
The France Visa Application Process for Pakistani Students:
After receiving the Admission acceptance Email, the study abroad students have to apply for the student visa
Applicants who have filled the online application form will access the automated visa application procedure.

Pakistani students are asked to provide biometrics during the visa application process.(fingerprinting or pictures)

At the interview session, the student has to submit a Hard copy of filled visa application form.

The interview session will be held at the French Consulate. Prospective study in France student has to appear with required documents and visa processing fee.

Visa appointment should be completed 90 days before the Departure to France.
Documents to present at the Visa office:
The following documents are submitted to the French visa officer to seek a student visa.
Completely and accurately filled and signed visa application form.

Passport, valid for at least three more months from the tentative date of departure, with at least two blank visa pages

Previous passports whether used or not.

Two passport or specific sized photos

University acceptance Letter

Attested Photocopies of transcripts

Bank Statement of (approx. 615 EUR per month expenditure) confirming your affordability while staying in France.

Airfare ticket with date of departure

Health insurance coverage of EUR 30,000.

Accommodation proofs

Language Proficiency certification either in English or French

visa fee receipt
The visa officer will either to accept or reject your visa application. Students can fight back for the visa approval if they are rejected for the first time.
X
FREE STUDY ABROAD

Free study abroad expert advice