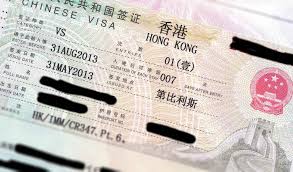 Hong Kong's higher education sector is regarded as one of the best in Asia and it is parallel to that of UK, USA and Australia. The Institutions in Hong Kong have raised their standards and made amendments by signing several collaborative academic and research partnership with top ranked international universities. Besides gaining par excellence education the exposure to global professional network in Hong Kong is enticing international students to study abroad in Hong Kong. The east meet west lifestyle, globally recognized degrees, adventurous tourist destinations, cultural diversity and booming economical growth of Hong Kong will make your study abroad experience enriching.
The Process of Attaining Student Visa of Hong Kong for Pakistani Students
What Pakistani Student Should do After Acceptance Letter from an Accredited Hong Kong's Institute:
After meeting admission eligibility you will be granted an acceptance letter from the university you have applied for admission in Hong Kong. Your hosting university in Hong Kong will declare itself as local sponsor for your education. The type of visa applicable to you depends on duration of your study programme which can be full time or part time course, either way you will have to attain visa to enter Hong Kong regardless of your nationality. (Read Admission Criteria of Hong Kong's Universities Here)
Visit Hong Kong's Embassy or Consulate in Pakistan to Get Visa Details:
You can submit your visa application on Hong Kong's immigration website or visit the Embassy or Consulate of Hong Kong in your home country. It is recommended to visit the Embassy and get details and documents requirements first hand. Upon visiting the Embassy, you will be delivered a list of following documents, a visa application form, visa fee and details about necessary perquisites.
Documents Required From Applicant for Hong Kong's Student Visa for Pakistani Students:
Required Originals:
Visa Application Form ID995A (Completed and signed by the applicant)

Recent Photographs of Applicant

Letter of Consent from parents and guardians (If the applicant is under 18 years of age a letter of consent will be required by the guardians or parents of the applicant authorizing a native of Hong Kong to be legal guardian of the applicant for the duration of his stay there. The native of Hong Kong can be applicant's relative, friend or the visa sponsor).

Entry permit or student visa sponsorship letter from the hosting institution in Hong Kong

If the finances for your living and study expenses are to be afforded by sponsor in Hong Kong, a Declaration by Financial Sponsor letter will be required which must be signed and completely filled by the sponsor itself. The Declaration by Financial Sponsor letter should reveal the sponsor's relationship with the applicant and agrees that he/she will holds himself responsible for applicant's study and living expenses while in Hong Kong.
Required Copies:
Copy of Applicant's Passport (the copy should contain front page of passport which has identity details, previous visas and entries (if any)

Acceptance Letter of Admission from Hong Kong's University

Letter of Acknowledgment Signed by Applicant (The letter signed by the applicant online in reply to acceptance letter declaring that he has accepted the admission offer from university)

Proof of Arranged Accommodation in Hong Kong (Write Down Address of Your Residence, City, Location and Lease Agreement)

Proof of Finances (Bank Statement, Savings Account, Credit Card Statement, Scholarship Award Certificate or Salary Slips. Any of these documents must be issued on the name of applicant)

The applicant should be able to prove financial resources of HK$120,000 or equivalent

Transcripts of your academic records, certificates and diplomas

Result of Public Examination

Language proficiency test certificate (IELTS, TOEFL, Cambridge)

Visa fee HK$160 and Currier Charges HK$290
Hong Kong's Student Visa Process for Pakistani Citizens
Once you have completed the application form and submitted the required documents, you can expect 3 to 6 weeks for visa processing. The immigration department verifies the authenticity of your documents and fulfills other requirements in this duration. If your visa is being approved, you will be called by the Embassy to collect your passport and start preparing for your departure. The visa approval time also depends on the duration of your study programme. The visas for short courses and part time courses are granted more quickly than full time courses.
Part Time Work Permission in Hong Kong for International Students Studying on Student Visa
The Government of Hong Kong does not allow international students to work off campus part time jobs. However, the student visa of Hong Kong has no objection for on campus part time jobs and internships that are related to study programme of students. For on campus part time job, the international students have 20 hours week permission and for internships the salary and time limit is not restricted. The internship jobs are allowed to students who are enrolled in a full time study programme containing one year duration at least. The internship must be in accordance to the curriculum and study programme related, it must be endorsed by the hosting institution of the student and its duration must be 12 months duration that is one academic year or one third proportion of one academic year.
Taking Assistance from Study Abroad Consultants
The student visa process is detailed and requires timely execution of steps. It starts from admission requirements, language requirements, fee submission, acceptance letter and student visa application and finagling arriving in Hong Kong. Evidently, the process requires time and money consumption and that too can be wasted if one fails to execute the process perfectly. The mistake and late submission of documents can further delay or even cancel one's student visa application. Since many of the students are new to study abroad process, it is rather difficult for them to understand the perquisites. For that matter, to save money and time and refusal of visa application, the students can take assistance from study abroad consultants and avail from their expertise in study abroad field. The study abroad consultants deal with applicants on day to day basis and they are well known to the new policies and procedures of study abroad. You can take guidance from study abroad consultants providing their services in various cities of Pakistan enlisted in the section here.
X
FREE STUDY ABROAD

Free study abroad expert advice