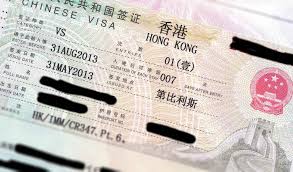 Hong Kong Study Visa From Pakistan
Hong Kong is home to some of the world's leading universities and educational institutions, offering students access to high-quality education and cutting-edge research opportunities. Hong Kong is a major hub for international business and finance, and studying there can provide students with valuable exposure to the industry and increase their chances of finding employment opportunities in the region. It is strategically located at the crossroads of Asia, providing students with easy access to other major cities in the region and the opportunity to explore and learn more about Asian culture and history.
Hong Kong Study Visa Application Process
To study in Hong Kong, you may need to obtain a student visa. Here's an overview of the requirements and process for obtaining a Hong Kong student visa:
Secure an Offer Letter: You will need to receive an offer letter from the educational institution you plan to attend in Hong Kong.

Gather Supporting Documents: The documents mentioned below are typically required to apply for a Hong Kong student visa

Submit the Application: Submit the completed application form and supporting documents to the immigration department either online or in person.

Pay the Application Fee: You will need to pay the required visa fee, which can vary depending on the type of visa and the length of your stay.

Attend an Interview: In some cases, you may be required to attend an interview with the immigration department to discuss your application and answer any questions they may have.

Receive the Visa: If your application is approved, you will receive a student visa, which will allow you to study in Hong Kong for the duration of your course.
Please note that this information is subject to change and is intended to provide a general overview of the visa application process. It is always best to check the most up-to-date information on the immigration department's website or by contacting the department directly.
Documents Required For Hong Kong's Student Visa
Visa Application Form ID995A (Completed and signed by the applicant)

Recent Photographs of Applicant

Letter of Consent from parents and guardians

Entry permit or student visa sponsorship letter from the hosting institution in Hong Kong

If the finances for your living and study expenses are to be afforded by sponsor in Hong Kong, a Declaration by Financial Sponsor letter will be required which must be signed and completely filled by the sponsor itself.
Copy of Applicant's Passport (the copy should contain front page of passport which has identity details, previous visas and entries (if any)

Acceptance Letter of Admission from Hong Kong's University

Letter of Acknowledgment Signed by Applicant (The letter signed by the applicant online in reply to acceptance letter declaring that he has accepted the admission offer from university)

Proof of Arranged Accommodation in Hong Kong (Write Down Address of Your Residence, City, Location and Lease Agreement)

Proof of Finances (Bank Statement, Savings Account, Credit Card Statement, Scholarship Award Certificate or Salary Slips. Any of these documents must be issued on the name of applicant)

The applicant should be able to prove financial resources of HK$120,000 or equivalent

Transcripts of your academic records, certificates and diplomas

Result of Public Examination

Language proficiency test certificate (IELTS, TOEFL, Cambridge)
Once you have completed the application form and submitted the required documents, you can expect 3 to 6 weeks for visa processing. The immigration department verifies the authenticity of your documents and fulfills other requirements in this duration. If your visa is being approved, you will be called by the Embassy to collect your passport and start preparing for your departure.
Hong Kong Study Visa Processing Time
The processing time for a Hong Kong student visa can vary depending on several factors, including the type of visa, the time of year, and the volume of applications being processed. On average, the processing time for a Hong Kong student visa can range from a few weeks to several months.
Hong Kong Study Visa Fee From Pakistan
The fee for a Hong Kong student visa from Pakistan can vary depending on the type of visa and the length of your stay. The fee is usually paid in local currency, and it is important to check the most up-to-date information on the immigration department's website or by contacting the department directly for the current fee amount. An updated visa fee for Hong Kong has announced by Pakistan embassy and it is 320HK$.
Part Time Work Permission In Hong Kong On Study Visa
Typically, international students with a valid student visa in Hong Kong are permitted to work part-time up to a maximum of 20 hours per week during the academic term and full-time during holidays. However, it is important to check the specific terms of your student visa to confirm your eligibility to work in Hong Kong.
It is also important to note that you may need to obtain additional work permits or authorization from the immigration department to work in Hong Kong,
X
FREE STUDY ABROAD

Free study abroad expert advice