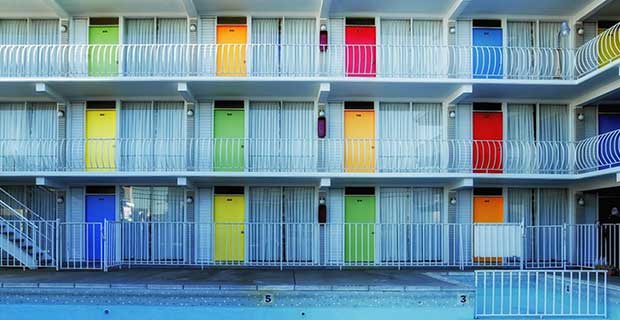 Portugal's exquisite beaches and charming landscape is pure joy for adventurers and tourists. In the past decade, the higher education sector of Portugal has gone through massive amendments and improvements resulting in worldwide recognition. The QS World University Rankings by Subject in 2018 placed 10 of Portugal's universities among top 100 world's best universities. The high standards of living, idyllic climate, security and pleasant ambience of Portugal have made it a popular study abroad destination in recent years. The accommodation in Portugal is modern and affordable for international students. Portugal's architecture and buildings have striking similarity with that of Spain and Italy, the cities exhibit traditional Mediterranean suburbs.
It is challenging for international students to arrange a suitable accommodation in a country where they are entering for the first time. Portugal is no different than other European states in fact it is one of the safest countries of Europe. In this article, we have discussed the best accommodation options for international students in Portugal.
Halls of Residence:
The university offered halls of residence are most suited and affordable option for foreign students. But students must keep in mind that Portugal's Universities receive hundreds of admissions requests from international students each year, the spots in university offered residence are limited so you better book one before there is no spot left. Due to increase in international student's admissions in Portugal each year, the universities have designed their residences to cater the needs of students belonging from different backgrounds and countries. Almost all universities in Portugal offer following facilities in their halls of residences:
Facilities:
Free Wi-Fi

Common kitchen (contains necessary utensils, microwave, stove, refrigerator)

Self laundry services in each floor of residence (equipped with washing machines and ironing table)

Residence manager available on sit in day time

Security guards and active security cameras 24/7

Common rooms

Gym

Study rooms
What are benefits of living in Halls of Residence?
You can book a private room or shared rooms in halls of residence each one will have separate cost. The utility bills are included in the monthly rent you will be fined if there is any damage to university's property or furniture caused by you. The university sets rules and time tables for each resident which must be followed or you might face consequences. Despite, some strict rules and restrictions, halls of residence are wise choice. You will get to know students from different countries and get to know their culture and increase your knowledge. You will save your travel expenses as the halls of residence are located nearest to the university's campus.
Cost:
The cost can vary from university to another. But on average it can be around 165 and 300 EUR per month.
Private Accommodation
Private accommodation is another option for international students in Portugal. The urban cities of Portugal such as Lisbon, Porto, Aveiro and Coimbra have majority of international students as tenants. In rural areas, the rents are relatively low cost but reaching to your university and work on time is not possible therefore the students prefer to live in central city areas. It is common for Portuguese people to rent out their houses to students and you might find one easily through real estate agencies or online ads at local websites. There is no such restriction of 1 year deposit of rent in advance, you can deposit one month rent in advance and then skip paying rent of last month of your stay in that accommodation if you choose to move out. You will show resident permit or Portuguese student visa to sign rental contract of private accommodation. The rents may differ according to location and facilities of the accommodation in cities of Portugal. The private accommodation options for international students in Portugal include:
Studio Apartment with One Bedroom and Living Room
The students who can afford to live in a luxurious, modernly styled urban studio apartment in Portugal will enjoy perks of privacy and freedom. Evidently for shy people living in a shared apartment is difficult although the cost is low but there are problems of keeping cleanliness, distraction because of noise and restrictions on timings.
Facilities:
Furnished House

Landry room

Bed, chair, table, lamp, closet.

Living room with set of sofas and table

Balcony
Cost:
The areas located near shopping centers and public transports are expensive in terms of rents. But a studio apartment will cost 500 to 600 Euros in central areas of cities in Portugal.
Flat Mates:
The owners of the houses having accommodation of four or five rooms rent each of the room to different student. Flat sharing is common trend in all around Europe and Portugal is no different. Due to presence of large number of international students in Europe the accommodation options are plenty. Flat share is more of a communal residence shared among students but it is independent and there are no restrictions imposed by owners except there should be no damage to property and peace should be maintained. Even a group of students rent a house together and share flat with their mates. The rent, utility bills and other expenditures are shared which make it equally affordable as halls of residence.
Facilities:
Common kitchen, laundry room and living room shared by all flat mates.

Furnished room.

Services of cleaning and laundry can be booked or not depends on your budget.

Bed, Chair, Table, closet, Table Lamp will be available in each room
Cost:
The cost is around 350 to 450 Euros for each person.
Home Stay:
Home stay is renting a room in house of a local Portuguese family. The tenant is given a private room with attached bathroom, the room will have necessary furniture and closet. The tenants can chose serviced or non serviced options. In serviced room the tenant will get cleaning, laundry services and cooked meals. In non serviced room the tenant can do self laundry use and kitchen but cooked meals and cleaning facility is not offered. Home stay accommodation is popular is Portugal, you can find a suitable home stay accommodation through websites and real estate agents. The benefit is living in family oriented atmosphere, learning local culture, hone your Portuguese language skills which can prove instrumental in finding job, you can make connections with locals and understand the way of settling in Portugal but the con of living with host family is lack of privacy. You will follow the rules set by your host family and manage your life style in manner that it won't disrupt theirs.
Facilities:
Furnished bedroom

Access to kitchen (Fridge, microwave, stove, utensils)

Laundry room

Garden

TV
Cost:
The rent in home stay is around 350 to 600 Euros.
Tips for Choosing Accommodation in Portugal for International Students
According to Portuguese law, it is illegal to rent a room which is without windows, some of the host families and flat shares rent the living room to tenants which usually are without windows. Not only it is illegal, it is not good for your health and for your keeping focus on your studies. Do not rent any such room.

Owners rent out their rooms without a contract but it is illegal according to Portuguese law. Wherever you are renting an apartment o room access it through a legitimate source and registered real estate agency and do not pay any amount without contract. If you do so it is illegal and in case of any hurdle and problem you cannot take legal help to resolve it and your paid amount could not be claimed back.

When renting a room through websites, try and gather as much information as you can about the owners and survey the residence and ensure it has all the said facilities as were mentioned in the ad before signing up the contract.

It is better to involve an authenticated and reliable source when renting an apartment rather than setting the terms with owners who are unknown to you.

It is better to pay through bank rather than by hand so you can have proof of payment.

If you are searching a house in Portugal when you still are in your home country, it is better to rent a room in hotel for few days in Portugal and then search the most suitable option by visiting in person if possible. If you book an apartment through internet, do it for a short stay and ask for fresh pictures of the house.

Search thoroughly and gather maximum information, compare rents before making a final call.

If you are not an outgoing person and prefer to spend time at home, it is better to rent an apartment outside the city center and save a considerable amount because there is huge difference of rent cost in outside city centers and within city centers accommodation.

The more flat mates the noisier it could be so commit to that accommodation only which suits your personality, especially during the first few months you will be facing many challenges to adjust in abroad.
X
FREE STUDY ABROAD

Free study abroad expert advice