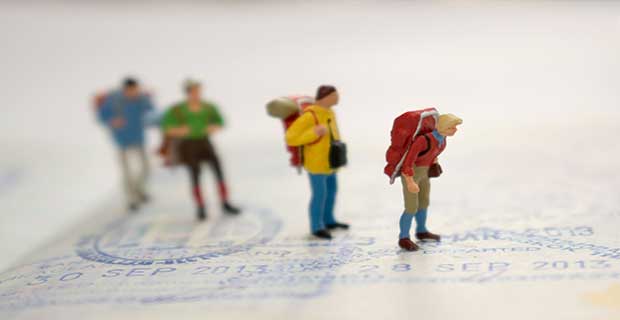 Portugal is charming country with beautiful landscape, Mediterranean climate, rich cultural history, top ranked academic institutions and developed economy. The roman architecture, beautiful beaches, longest summer of Europe, blend of various cuisines and youthful and dynamic lifestyle can be experienced while living in Portugal. The country is called the business hub of Europe with numerous multinational companies and financial organization having their base in Portugal. The international students opt to study in Portugal because of top quality education and also to get professional exposure. Over the years, Portugal has made considerable investments in improving its higher education sector to match its counter parts in other European States. By adopting Bologna system of education, the degrees offered by universities of Portugal are accepted and recognized globally because high quality assurance.
The Process of Student Visa of Portugal for Pakistani Students 2021
Those planning to study abroad in Portugal have to attain student visa if they are nationals of non-EU countries. The EU nationals do not require a student visa to study in Portugal. The rules for attaining student visa of Portugal are country specific. Nationals of different third world countries will have different rules and documents requirements which will be ascertained by the Portuguese Embassy located in your home country. There are different types of Portuguese student Visas based on the duration of your study programme whether it is short course, under graduate, post graduate or PhD research programme. (Read Admission Requirements of Portuguese Universities Here).
Here are types of Portuguese Student Visas explained for intending candidates:
Types of Student Visas in Portugal for International Students
Schengen Short Stay C Type Visa (for Study Programme of Less than 90 Days Duration)
The non-EU international students enrolled in a course or research programme of less than 90 days duration will apply for C Type Visa. Upon getting acceptance letter from university of your admission confirmation in the course, you will visit the Portuguese Embassy or Consulate and attain the required information and details of documents to be submitted along the visa application. Portugal is a Schengen state, any individual having a Schengen visa is allowed to travel other Schengen states under one visa for 90 days.
Schengen Long Stay D Type Visa (for Study Programme of More Than 90 Days Duration)
The non-EU nationals who are enrolled at an accredited university of Portugal in a study programme which has more than 90 days duration will apply for Schengen Long Stay D Type Visa from their home country. Upon getting acceptance letter from your hosting Portuguese university you will visit the Embassy or Consulate of Portugal located in your country nearest to you
Portuguese Residence Permit for Researchers
The non-EU nationals enrolled in post doctoral research programme that lasts longer than 3 months duration are counted in highly qualified category. Such candidates will apply for Portuguese residence permit for researchers from their home country. This visa type allows candidates to get paid research work and other benefits.
Note: There are over 30 countries which have signed an agreement with Portugal. The nationals of such countries do not need student visa for short courses study programme of less than 6 months duration. Australia, Canada, New Zealand and the US are few of those.
Visa Application Procedure
As you ascertain which visa category suits your study programme duration in Portugal, you will visit the Portuguese Embassy in your home country and get visa application form, details of required documents and you might be asked to attend an interview. The applicant must appear to submit the visa application by himself firsthand, as per the rules Embassies do not accept visa applications from any individual other than the applicant himself.
The Documents Required for C Type Visa include:
Applicant's valid passport (travel ID) must be valid till the duration of your study programme in Portugal.

Completed visa application form

Proof of Finances (Bank Statement, Credit Card Statement) proving the applicant has finances to cover the study and living expenses for the stay in Portugal.

Proof of accommodation (if the accommodation has not yet been arranged, the applicant must prove he/she has enough finances to afford an accommodation cost for duration of their stay)

Two recently taken passport size photographs

Health insurance coverage

Return travel ticket

Acceptance letter from hosting institute in Portugal. (must be original)

Bank receipt of paid tuition fee of university

Bank receipt of paid visa application fee

Clearance certificate from local police station stating that the applicant has no criminal record

Health examination certificate
The Documents Required for D Type Visa include:
Completed visa application form signed by the applicant

Applicant's valid passport (valid for at least 3 months duration, must have blank pages for visa stamps, previous passport (if any) must be attached with current passport)

Two recent photographs with plain background

National Identity card photocopy

Criminal record clearance letter from an authorized authority near the residence of applicant stating the good character of applicant and ensuring there has been no criminal record in the name of applicant.

Transcripts of academic records legalized by the Foreign Affairs Ministry of applicant's home country.

Letter of acceptance from an accredited institute of Portugal.

Proof of arranged accommodation (rental contract, paid rent receipts and address of residence)

Proof of Finances (Bank statement or Credit card statement of last 6 months).

Return travel ticket.

Health insurance coverage not less than 30,000 Euros. (to cover medical expenses of the applicant during his/her stay in Portugal for education).

Proof of paid tuition fee

Medical examination certificate

All the documents be translated in English language.
Note: Language Proficiency Test Certificate is not a requirement for Portuguese student visa. After approval from Portuguese university for admission the students are not required to prove any further proficiency in language. However, if you manage to speak Portuguese language in your visa interview, the visa officers at Embassy will be very impressed and would recommend for approval of your visa.
Note: The Embassy might request additional documents other than the above mentioned.
Visa Processing Time of Portugal for Pakistani Students 2021
The Portuguese student visa processing time might span from one to three months. Most probably it will take 3 months at least. It is advised to students to arrange all the documents, recheck them and schedule for visa meeting by making an appointment at Portuguese Embassy near you at least 3 months before their study program commences in Portugal. As you receive visa, you might be as well be have to meet some health requirements which include taking vaccination.
Cost of Portuguese Student Visa
The applicants will pay a student visa fee for Portugal along with required documents. The Portuguese student visa fee for Pakistani nationals is 30 Euros. The visa application fee is different for each country. The Russians will pay 35 Euros. For some countries the student visa cost is around 60 to 99 Euros.
Applying For Resident Permit after Arriving in Portugal on Student Visa
After arriving in Portugal on student visa, the international students belonging from non-EU countries have to apply for resident permit within six months. The resident permit stays valid for one year duration. After one year, the resident permit can be renewed for another year according to study programme duration of the applicant. You will submit resident permit application renewal application at Portuguese Immigration and Borders Service (SEF) office. The resident permit of Portugal can be extended for five years maximum.
Documents required for resident permit:
Resident permit application form completed and signed by applicant.

Valid passport of applicant

Two recent photograph

Proof of finances

Proof of accommodation.
Part Time Work Permission in Portugal under Student Visa 2021
International students have permission to work part time in Portugal under student visa without needing any work permit. However, the students have to register their part time work at SEF (Portuguese Immigration and Borders Service) office. To engage in research work, academic teaching and other skill related profession, the candidates can seek permission from SEF. The non –EU students have permission to work 20 hours a week in semesters and full time on semester breaks in Portugal.
Taking Services of Study Abroad Consultants
The documents for student visa and their authorization must be done at least three months before your study programme starts in Portugal. The documents and visa application must be done with perfection and detailing. In case of any mistake the visa process can be delayed than its expected duration. Therefore, the students are advised to take guidance of study abroad experts who deal with student visa cases on regular basis. The study abroad consultants can guide you through each and every step of student visa taking burden off from your shoulders and in fact your chances of visa approval increase with their assistance. The professional study abroad consultants in various cities of Pakistan are featured on our exclusive section here for your assistance.
X
FREE STUDY ABROAD

Free study abroad expert advice