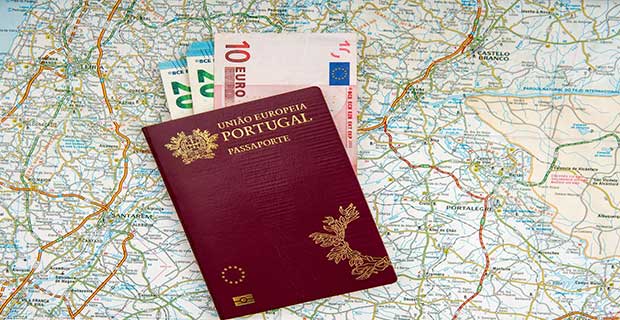 Portugal's favorable climate and charming lifestyle casts a spell over expats and international students living there for study or work. The land of beautiful beaches and scenic landscape, Portugal is located at western most region of Europe and has rich historical roots that can be traced through the infrastructure of its cities. The habitants of Portugal enjoy high standards of living and healthcare facilities; it is regarded as one of the safest countries in Europe. Though small in area, but not in adventures and attractiveness, it is natural for non EU students studying there to consider settling in Portugal post graduation. Portugal is s Schengen state and European Union member and an important center for investors and businesses of Europe. So how can an international student stay in Portugal post graduation legally? The following section will shed light at the procedure and types of work permits and permanent residency of Portugal in detail. (To Get Details about Student Visa of Portugal Read This Article).
Portuguese Work Visa and Permit Eligibility forPakistani Students 2021
As per the rules of Portugal, an international student having done his/her graduation from the accredited universities of Portugal needs to secure an employment contract first to stay and work in Portugal. They will have to travel back to their country and arrive back on work permit which will be applied by their employer on their behalf. If not employment contract, the individuals married to a Portuguese national can keep staying in the country and are allowed to work according to their qualification and skills.
Portugal's economy had suffered deflation in past few years and it is still in recovering process but there are still sectors that are growing and attracting investments. Because of this deflation, the Portuguese Government has restricted hiring foreign nationals and adjusted a quota which has limited number of job seats for third country nationals.
If you get to secure an employment contract after or within the duration of your study programme in Portugal, the employer hiring you will apply for work permit on your behalf at immigration office and you can have work permit which will be initially granted for one year duration and can be extended according to your employment contract.
Portuguese Work Permits for Non EU Nationals
The Non-EU nationals or third country nationals can start searching for jobs in the last year of their study programme or more favorably take an internship position to enter into job market of Portugal and to attain required work experience of their professional field. When you found employment, the different work permits in Portugal for non-EU nationals include:
Portuguese Short Term Work Visa
The Portuguese short term work visa is for that Non- EU nationals who have attained an employment contract which is due to end in less than 6 months duration. For those doing scientific research, highly qualified professional activity, doing services for World Trade Organization members or academic teaching, in Portugal this visa can be initially granted for one year duration.
Portuguese Long Term Work Visa
The Portuguese long term work visa is for those candidates who have secured an employment contract that lasts longer than 6 months duration. As Portugal being a member of Schengen States, the holder of Portuguese long term visa or D type visa is eligible to travel other 26 Schengen member states on this visa without requiring any other visa for the duration of 90 days.
The holders of D type or Long Term Work Visas will apply for resident permit according to their qualifications, employment contract and professional skills.
Portuguese Resident Permits
Employee:
The standard resident permit in Portugal applicable to most of the Non-EU nationals is employee's resident permit. The resident permit is initially granted for one year duration can be extended for 5 years. After 5 years the candidates are eligible to apply for permanent residency visa of Portugal. It depends on individual's employment contract, if the job remains in the hand of candidate for 5 years, he can renew the resident permit each year.
Portuguese Resident Permit for Highly Skilled Professionals:
This resident permit is applicable to scientific researchers, academic teachers or highly qualified professionals. Similar to employee's resident permit, the duration of the resident permit first be granted for one year and can be extended till 5 years after which permanent residency of Portugal can be applied.
EU Blue Card
The highly qualified workers can apply for EU Blue Card and reside in Portugal for one to four years duration. The non-EU nationals having a high qualification degree (i-e university degree), an employment contract or a job offer from an EU country or had been working in EU for one year can apply for EU Blue Card and work in any 24 Schengen states of EU under this blue card. The EU Blue Card holders are eligible to apply for permanent residency of Portugal after just 18 months.
Portuguese Golden Residence for Business Investors
The Portuguese government has initiated the golden residence visa for new business startups and investors. The investor will have to show their business proposal, proof of finances, will have to pledge certain amount of money at bank of Portugal for 5 years or invest their money by purchasing real state in Portugal to get golden residence of Portugal. The duration of residence depends on the candidates investing amount. After residing 5 years in Portugal on golden residence visa, the individuals will be able to apply for permanent residency of Portugal.
Work Permits for Self-employed workers in Portugal
The interested candidate intending to start a business or start a freelance work in Portugal will apply for employee resident permit and will fulfill same requirements. The proof of finances, business plan, benefit of business to Portugal and pledging amount will be requirements to attain self employed work visa of Portugal.
Portuguese Work Permit for Trainees and Volunteers
The third country nationals working under an unpaid traineeship pr volunteer work in Portugal are granted a special resident permit. As the traineeship or volunteer work ends the students can convert their visa to work permit if they secure an employment contract in this duration. Similar to employee's resident permit they will be granted one year duration resident permit as well. The change in permit will be first authorized by SEF and then by immigration department. In this case, the students would not have to leave the country, in fact they can change their visa to work permit that suits their qualification and professional skill. The trainee and volunteer work permit is not for paid workers and it has validity of one year.
Documents Required for Portuguese Work Visa forPakistani Students 2021
The Non-EU nationals will submit work visa application from their home country at Portuguese Embassy or Consulate located near them. Once the candidates receive a job confirmation letter, they can visit the Portuguese Embassy and attain the details. The required documents may vary from one country to another. But in general following documents are required:
Work visa application form completed and signed by applicant

Photocopy of Valid Passport (with previous visa details)

Two passport size photographs of applicant

Travel ticket arrangement (if applicable)

Medical insurance coverage (must be of EUR 30,000 worth)

Proof of accommodation arranged in Portugal

Original job offer or employment contract

Registration card of Employer's business or company in Portugal and previous tax returns details
The work visa will take two to three months of processing. When granted, the work visa and resident permit will have same validity as your employment contract and can be extended according to renewal of your job contract duration for up to 5 years. As you enter in Portugal under work visa, you will register at social security in Portugal and a Portuguese tax number. After 5 years of living in Portugal on work permit you are eligible to apply for permanent residency visa of Portugal which will be valid for 5 years. There will be no restriction of employment contract duration if you get permanent residency of Portugal.
Permanent Residency of Portugal
You can apply for permanent residency visa of Portugal after having lived in the country on legal visa. The permanent residency visa is application is submitted at SEF, the candidate is eligible to be granted PR visa if he meets following criterion:
The candidate has been living in Portugal on temporary permanent residence for last for last five years.

The candidate has not committed any legal offense and met the responsibilities of responsible citizen in last five years duration.

The candidate has sufficient means of sustenance for him and his family in Portugal.

The candidate has an accommodation large enough for him and his family

The candidate can speak and understand Portuguese language at basic level.
Obligation Imposed on Permanent Residents of Portugal:
The permanent residency card is valid for lifetime. It can be renewed after every five years. The holder of PR visa is obliged to inform about his change of address to SEF in case he changes one. The resident is under obligation to inform about his marital status to SEF.
Rights of Permanent Residency Holders in Portugal:
The holder of Portugal's Permanent Residency Card can work and stay anywhere in the country.

The holder or Portugal's PR card can travel to other Schengen States without any visa.

The PR resident has similar rights as citizens of Portugal, the can avail government funded education and health care facilities and retirement funds.

The PR resident becomes eligible to apply for citizenship of Portugal after 5 years of living in Portugal on PR visa.

Portugal allows PR holders to attain dual citizenship without needing to renounce their native nationality.

Another benefit of attaining PR Card of Portugal is visa free access to 171 countries which have an agreement with Portugal.

The PR Card holders of Portugal can travel to other countries but they are restricted to not be absent from Portugal for than 24 months consecutively.
Citizenship of Portugal
After residing in Portugal on PR Card the holder is eligible to apply for citizenship of Portugal. The intended candidate will submit the application for citizenship of Portugal at civil registry office. When the civil registry office will approve the application of citizenship, the later process of passport issuance and registration will be handled by SEF. The citizenship of Portugal will be granted to those candidates who meet the following eligibility criterion:
If the candidate's both grandparents or one of the grandparent had Portuguese nationality.

If the candidate is under aged and had done one cycle of schooling in Portugal in the past when his parent had been residing in Portugal and had lived for 5 continuous years.

If the candidate is PR Card holder and had lived on this card for 5 years continuously.

The candidate's spouse and children are entitled to attain citizenship of Portugal along with the candidate.

If the candidate had been married to Portuguese citizen for last three years.
X
FREE STUDY ABROAD

Free study abroad expert advice