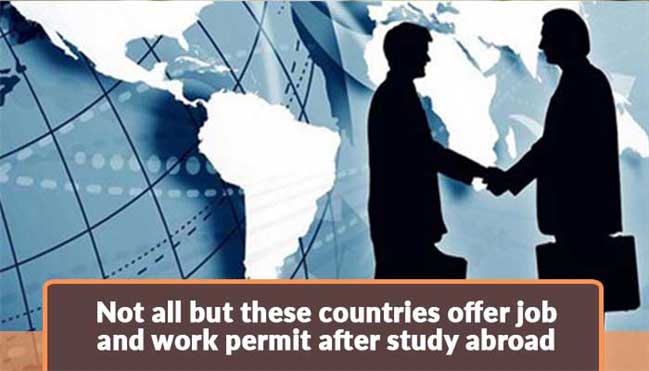 The pursuit to study abroad arises with a dream for acquiring better educational and career opportunities. Predominantly, the individuals who have studied in foreign countries prefer to settle there after completion of their academic courses. Foreign Universities also offer platform to their students for jobs and career opportunities through career counseling and consultancy during the final year of their academic programmes. Employers from various fields keep an eye on high achievers of Universities for recruitment in their companies and firms as well for training and internship programmes. Consequently, the graduates who have studied in foreign mostly settle their after attaining degrees. Here is the list of countries whose policy of foreign students is flexible and accommodating.
The newly reformed visa policies for foreign students in Australia are facilitating them with work permit, residency visa and work opportunities in field of their forte. Australian Visa Policy is most accommodating to skilled workers. The eligibility for jobs is not specifically only for Australian University Degree holders, others can also apply, they can get job based on their skills. TEMPORARY GRADUATE VISA in Australia is for those who are looking forward to find suitable job in the country after completing their College and University Degree.
USA happens to be the most desired study abroad destination because of various factors. USA is hub for job seekers belonging to all fields. US Government is running several scholarships and fee waivers programmes in partnership with numerous countries. It is huge part of its foreign policy. IT, Engineering and Business studies students must consider US as first priority for study abroad because these fields are most developed and progressed in US. You might find best job opportunity. Part from that monthly payments, living expenditures and medical expenses in US are affordable if you succeed in landing good job after completion of your degree.
On the list of world's most suitable country to settle after studying abroad is definitely UK. The government has most effective and active human rights rules and regulations. Anyone staying in the UK, even those who are foreigners, consider it safest. There are numerous part time and full time job opportunities. As it is a developed country, pays of graduates are standardized by Government according to skills and work level of employees. These visa policies are for foreign students who want to acquire residence and work permit in the UK: Tier 4 Doctorate Extension Scheme, Tier 2 (General), Tier 1 Graduate entrepreneur.
Anyone who is updated about current affairs must have known about Canadian President Justin Trudeau and his likeness all around the world. Canadian Presidents is famous for his policies and welcoming comments regarding refugees and Muslim community. Canada has huge land reservoir but has a small population. The visa policies for foreign students in Canada are flexible. Immigration, residential visas, work permits and student visa extensions in Canada are most accommodating. The Post-Graduation Work Permit Program (PGWPP), Express Entry and Several Scholarships Programs are being run by Canadian Government.
X
FREE STUDY ABROAD

Free study abroad expert advice