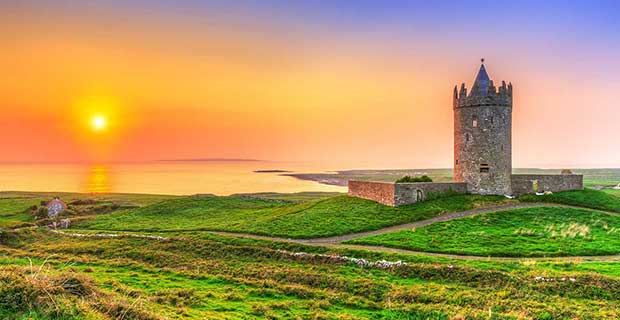 Ireland is one of the safest and friendliest countries of Europe. It receives yearly 35,000 students from 161 countries. It is popular for research based and career focused education. Irish Universities are globally acclaimed which are offering a wide range of courses in different academic streams. To get a complete package of enjoying an urban lifestyle in natural climate and to visit historical castles and green fields chose Ireland as your study abroad destination.
Irish higher education system excels in global scale

Irish Government spends 800 million for research in higher education system

Irish Universities offer ECTS (European Credit Transfer System) due to which you can transfer your credit hours to any other university around the world

English Speaking Country

Students can apply for green card or work permit visa after graduation

Irish Government is running plenty of loans and scholarships programmes for international students

20 working hours allowed to international students per week

Minimum wage is 1,613.95 EUR per month

Irish Government encourages start ups and innovative ideas

It is an English speaking country therefore travelling and working in Ireland would not be an issue.

The higher education system uses advanced technologies for research
Irish Universities are World's Best in Terms of Research and Skills:
Irish Universities are ranked for highest quality education in terms of research and skills. The teaching methodologies are advanced and updated and moreover innovation and creative learning is encouraged. Irish Universities are producing highly qualified and skillful graduates which are contributing factor to its economic growth. You will be studying from world's accomplished IT, pharmaceutical and scientific researchers.
Home to World's Most Established Companies:
Ireland is ranked as one of the wealthiest state at OECD (Organization for Economic Co-operation and Development). It is a hub of multinational companies and an investor's paradise. Graduating from an Irish University will give you an easy pathway to grab those career opportunities that you can't get anywhere else in the world.
Opportunity to Find Job in Ireland After You Graduate:
You are allowed to find employment in Ireland after graduating from an Irish University. You can apply for a green card or work permit on finding employment in Ireland. It is major factor that many international students are considering to study in Ireland. Since Ireland is a member of European Union, the student's visa or work permit visa of Ireland will increase the value of your passport greatly and will open door to many employment opportunities even in other countries.
X
FREE STUDY ABROAD

Free study abroad expert advice