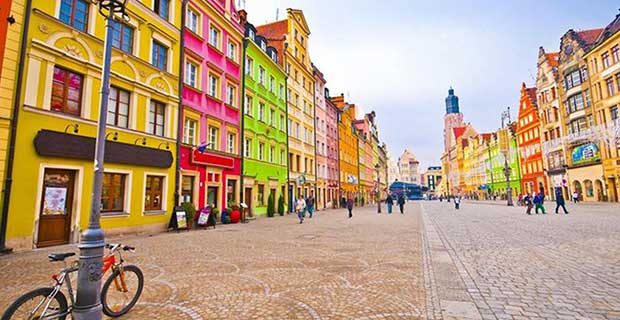 Living expenses are the major challenge for international students to cover while studying and living in Poland. As compared to living style in Pakistan Europe charges a lot in return of giving a good lifestyle.
With a pretty stable economic level, Poland is existing as one of the most beautiful countries of Europe. With a little difference, different cities offer a different level of lifestyle. For students or international students, almost all European countries are known as students-friendly countries. Poland also offers a great experience to the international students in almost all the aspects.
Here we have discussed completely that which kind of lifestyle Poland offers to the international students and how they can manage a better lifestyle as living there in Poland.
Accommodation
Wherever you are living it doesn't matter. Can you manage or afford the accommodation for a good living style? It does matter. Sometimes, students ask to manage their accommodation as pre departing plan. But, most students find it after arriving at their destination.
In case you are called to arrange your accommodation before departing then you have to call someone who is already living there. I case, there is no acquaintance is residing there then you are to be suggested to contact with Study Abroad Consultants. Here at studyabroad.pk, we provided Pakistan's best study abroad consultant for the convenience of our beloved students.
Types of Accommodation
Which type of accommodations students can find there in Poland? It is the common question came to hear from the students. Students are to inform that there is not much difference in accommodation types. Like all other European countries, multiple modes of accommodation come to see.
Following is the detail about types of accommodation for students in Poland:
On-Campus Accommodating or Residence Hall for Students
There are almost all the biggest colleges and universities offer on-campus accommodation to international students. it means students are offered with the halls of residence where they live with their classmates. Separate rooms and sharing rooms are provided to the students according to their need. Laundry facilities, TV room, study lounge are the main facilities of the students' resident hall.
Monthly charges range from 100 to 150 EURs for a single student. The charges range depends on the availability of living or basic opportunities.
Following Benefits On-Campus Residence Provides to the International Students:
Almost all the basic needs of a good standard you can easily find through this residence.

You are provided with the accommodation inside campus or near to the campus.

You can save the transport charges while living in on-campus accommodation.

You spent more times with your classmates and other students. Under such a condition, you can avoid homesickness.
Off-Campus Accommodation
On-campus accommodation comes with rare chances. All students cannot get the opportunity to live inside the campus. The reason behind it is that there are fewer halls provided by colleges and universities.
Under such condition, students are asked to find the accommodation outside the areas. Following are the off-campus accommodation mode students can find as living there in Poland.
Live With Your Family or Friends
If your friends or family members are already living there in Poland then it is an exceptional opportunity for you to manage your accommodation.
In Poland, you can also get accommodation as a paying guest. This is another best way to live within a reasonable cost. Sometimes, students find friendly people who do not only offer accommodation but other basics need also provide to the foreigner students.
The private flat system is in-trend in Poland. Local as well as international people find a flat system in almost all the towns. These flats are of different types. One can easily find his/her best just according to his/her need. 300 to 500 EURs are per month charges of privately rented flats.
The best experience students have shared with us that they take a flat on rent and share it with two or three students. Under such a situation the rent divides into two or three students. In this way, they can easily manage the accommodation.
Find the students who want to share their flat or accommodation with others. Moreover, you can also contact your classmates and prepare them to take a rental apartment and share it.
How to Get Accommodation
Obviously, you have become familiar with the types of accommodation and the charges of each mode of accommodation. On-Campus accommodation is the best and the easiest way to spend a good student life in Poland.
But if you are going to follow the off-campus accommodation then you have the proper knowledge to find the accommodation. Following are the tips to find the best accommodation:
A supporting department exists in almost all colleges and universities. Students can contact this department for potential assistance.

You will find your senior international students there at your college and university. You can take the idea from them that how to find the best way of accommodation and how to manage it as well.

In case your friends or relatives are living there then you can also get a better opportunity.

Meet with the local people and get assistance from them because they are well known about the living style of Poland.

Real estate agents you can find anywhere in the world. Find your best and he will grab the possible solution to assist you.
What is the Average Cost of Living?
Students for having a sound life are required to follow the minimum of basic living style. For this basic living standard food, drinks, clothes, utility bills, study costs, entertainment costs are the main factors. Students pay from 350 EURs to 550 EURs to cover these basic living things.
Following Are The Things Offers A Sound Lifestyle:
Food:
Monthly charges for food ranges from 100 to 150 EURs
Transportation:
Monthly charges for food ranges from 15 to 20 EURs
Electronic Bills (TV, Internet, and mobile, etc.):
Monthly charges for food ranges from 20 to 30 EURs
Study Materials:
Monthly charges for food ranges from 30 to 50 EURs
Entertainment:
Monthly charges for food ranges from 70 to 100 EURs
Grocery and Clothes:
Cost for grocery items and foods depend upon your taste and fashion level.
X
FREE STUDY ABROAD

Free study abroad expert advice