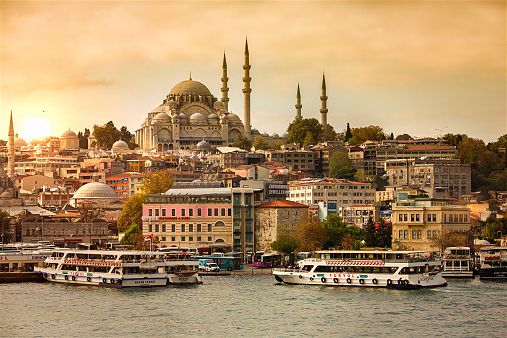 An international student studying in Turkey can gain the experience of the traditional and contemporary blend of lifestyles. The country offers living and culture from both European and Asian origins. Pakistanis, especially, adjust in this foreign location as Turkish customs and festivals are tied under strong Islamic influences. The general cost of living in Turkey is relatively low as compared to other foreign destinations. On average an international student requires a budget of €600 per month to spend life in Turkey.
Accommodation for international students
Both State and University dormitories accommodate international students. State dormitories; however, are the most preferred. YURT-KUR (Higher Education Credits and Dormitories Institution) is the best choice of Turkish accommodation options.
Luxurious dormitories also entail exclusive activities like swimming pool, gym, etc. Moreover, spacious residences or small flats in apartments are also available for students on sharing or for a single entity. Students can rent a house in Turkey via internet or through real estate companies. Dormitories, however, are a better choice for affordability and the student living at dorms can get multiple opportunities to learn the local language. The cost of residing in dorms ranges between €1,350 and €1,860 per semester, depending on the facilities provided. Private accommodation, however, charges more. Your Study abroad consultant can also help you in this matter.
In summary, the following types of accommodations are available for students
University residence – on-campus dormitories, with single or shared rooms

Private renting – privately rented single rooms and apartments

Hostels – affordable youth hostels, these are, in fact, state-owned residences, offering useful options for temporary residence with individual rooms or shared rooms.
Transportation
Public transportation is readily available throughout the city like, by buses, minibuses (dolmus), and subways. They, in fact, form a network around the town. Students can enjoy special discount on transportation. This facility is available for both intra-city and inter-city travelling. Students can also fly through airway or travel via railways within Turkey. Intercity railway provides comfortable and economical travelling option for students Sea transportation is another popular mode of transportation in Turkey. Besides students, discounts on public transportation are applied for families of veterans, martyrs and elders. However, these discounted rates vary from city to city.
Health Care
Reputed hospitals in Turkey entail an emergency room open 24 hours a day. Physicians and pharmacies are easily accessible. Moreover, Universities in Turkey themselves provide the facility of on-campus medical centers. However, prior to arriving in Turkey, international students should possess a valid health insurance policy. In case of illness, international students are allowed to use all health services but they have to pay for these services. Later, the cost is reimbursed via their insurance. International students, however, have to pay for hospitalization or for any treatment which is not available at the university health centre.
Social Life
Students can avail every opportunity to observe and experience the glorious and arty culture of Turkey. These foreign Students can lead a vibrant social life and visit the numerous theatre's cinemas and exhibitions in Turkey. Universities in Turkey have various student Clubs and student associations. Moreover, active students can take part in miscellaneous Sports activities like swimming, rafting, skiing, football, basketball, volleyball etc. Turkey metropolis like Istanbul, Ankara and Izmir arrange grand events for visitors and locals. These include International and national movie shows, music, art and fashion events and other traditional festivals.
Employment
Presently International students on Turkish student visa cannot work legally in Turkey. However, the Government of Turkey is soon announcing some new regulations for international students regarding work while study policy. Still, there are many several internships opportunities available for international students which provide both exposure and experience in working in a Turkish organization. Multinational companies also offer multi-cultural environment to students through internships. These intern programs are available in both the public and private sectors.
Graduates from Turkish university, however, apply for a work permit through the support of a prospective employer. Opportunities are available in tourist zones, language teaching etc. Once you get a permanent work permit, the graduate or foreigner can enjoy most of the facilities that are provided to local Turkish residents. This permanent work permit can also gain you the Turkish citizenship.
Food and drink
Students get indulged in the mouth-watering Turkish cuisine, for example, countless Turkish kebabs, manti ravioli, white bean stew, and the iconic Turkish dessert: Turkish delight (lokum), some other sweet treats include baklava and maras. Turkish yoghurt drink Aryan and refreshing sweet salep offer unique and distinctive savors to the indulgers.
Money and banking
Foreign students can easily open a bank account in Turkey. The student has to provide his/her identity at a local Bank branch. Turkish government conducts the most contemporary banking system like online account management, currency exchange, international transfers and access to automated cash machines.
Places to Visit
Both Ankara and Istanbul are considered as tourist delights. Popular places to visit include Churches and Caves of Cappadocia, Terrace of Carbonate Minerals, Blue Mosque, Hagia Sophia and Topkapi Palace. They are the spectacular visiting destinations in Turkey. Izmir is the port city. This azure-blue Bay has been an important Aegean port since a long time
X
FREE STUDY ABROAD

Free study abroad expert advice