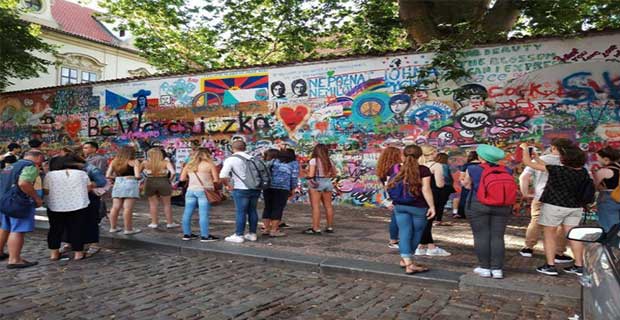 International students applying for student visa of Czech Republic are required to provide proof of arranged accommodation for the duration of their stay in the country. International students can find different types of comfortable accommodation options in Czech Republic. Public Universities mostly offer on campus accommodation to international students but applicants of admissions at private university most probably have to find private accommodation. The rent of accommodation depends on the city and also on the location in the city. Since Czech republic receives a large number of international students each year. In popular cities of Czech Republic as Prague and Brno you will find students areas where private and shared rooms are occupied by international students. So finding a suitable, comfortable and reasonable cost accommodation in Czech Republic is not difficult. Written below are types of student's accommodation available in Czech Republic:
On Campus accommodation/University Offered Accommodation
The public universities in Czech Republic mostly offer dormitories to international students. The accommodation type with facilities will be sent to you by accommodation office of the university by email along with the acceptance letter. If you wish to avail university offered accommodation then you can fill accommodation application and email it for booking (Admission requirements in Czech Universities). It is hard to find a single room in on campus dormitories. However there is possibility that you might find a room with one of your class mate. The roommate's selection is decided by faculty head of your study program. If you to wish to share your dorm room with one of your friends then you can place a written request at accommodation office of university and then they will decide to permit it or not.
In university accommodation you can have facilities of:
Reception of Telephone Connection will be available 24 /7

Security Operators Ensuring Safety Of Students Via CCTV Cameras

Elevator Facility

Free High Speed Internet Wi-Fi Facility

Combine Study Rooms

Student clubs

Storage room for Keeping bicycles etc

Exclusive Mailbox for Each Student

Every student's use will have free access to Iron, ironing board and vacuum cleaner

Kitchen will be in every floor of dormitory which will be containing a stove, a microwave, a sink and a recycling container

In every floor of dormitory will be a sprinkler and fire protection

Accessibility for disabled students

Drinking machine for every floor of dormitory

Safe in reception

Bed sheets will be changed by dormitory in every 2 weeks
Types of On Campus Accommodation in Czech Republic
Universities in Czech Republic are offering various types of on campus accommodations depending upon student's preferences, pocket and comfort levels. The on accommodation types include: Hotel Room, Apartment Student and Individual Accommodation.
Hotel Room
Many Czech Universities have built dorm rooms for students in hotels. They have rebuilt a part of hotel for student's stay. A student can rent a single room in the hotel. The hotel rooms contain bathroom, TV, desk and chair, closet and telephone. In each floor of hotel there will be a common kitchen and fridge which can be accessed by all students of the floor. The bed sheets will be changed by hotel management once a week.
Apartment Student
Apartment Student is a single for each student in a university dormitory where students can have free internet access, fridge, Plasma TV, bed, Mattress, Bathroom, table and chair. The dormitory is monitored through cameras for security check. Similar to hotel rooms, the apartments have a common kitchen and a laundry room for students of each floor. There is elevator available for moving between floors. The apartment student rooms are built in university dormitories. The university dormitory is usually located near to public transport, shopping centers, gyms, restaurants, clinics.
Individual Accommodation
The accommodation office of your university can help you rent an individual apartment in the city according to your preference and choice. The students who prefer privacy can rent individual apartments. The individual apartment will contain a kitchen, two bedrooms, 2 bathrooms and proximity to your campus.
Off Campus Accommodation in Czech for Pakistani Students 2021
Choosing an off campus accommodation is allowed to international students. They can book a private accommodation in the city of Czech Republic where their University is located by doing online search. But they have to book an accommodation for themselves and pay rent before they apply for student's visa because the Embassy requires accommodation proof. The students can stay with host families, rent a private room in an apartment, rent shared apartment with fellow students or friends or book a private studio apartment. But it is advised to book an off campus apartment after staying for one year in Czech Republic because then you are more known to area and city and can move your way around without any trouble.
Shared Flats or Apartments
Students prefer staying in shared flats and apartments with their fellow students. The group of students staying in one shared flat can enjoy privacy and also share their bills and rents. It is an affordable option. But again if you are familiar with the area and know your room mates well enough only then opt for this kind of off campus living option. You can have a separate kitchen, two bedrooms, two attached bathrooms and sitting room in a shared flat or apartment. The rent can be between 500 to 800 EUR per month.
Studio Apartment
Studio apartments are the built in modern architecture. It is most luxurious option of the lot. It has a living room, two or three bedrooms with attached bathrooms, equipped kitchen and laundry room. The studio apartments are located in various areas of the Czech cities. To book a studio apartment the student will have to provide documents and deposit of three months to sign rental contract. It will be near to public transport, shopping malls and everything you need while your stay in the country. The studio apartments have a balcony as well. The rent can be between 600 to 1000 EUR per month.
X
FREE STUDY ABROAD

Free study abroad expert advice