Study abroad in Czech Republic for Pakistani students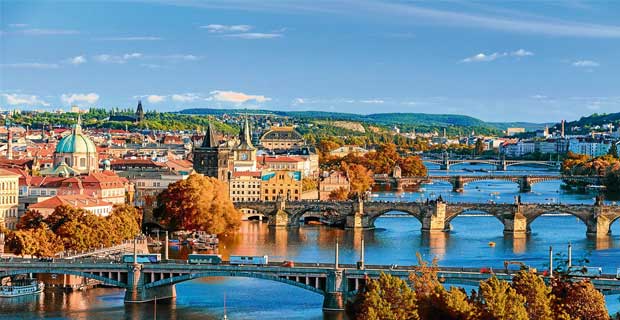 The origin of higher education in Central Europe dates back to 1348 when Charles University in Prague was founded. The Czech Republic is offering an affordable but high quality of living to international students who leave their country behind for the sake of attaining a high-quality education. Czech Universities have earned global acclamation because of the diversity of English taught programmes and effective research-based education. The Czech Republic is sheltering numerous multinational companies owing to its developed economy. Availability of post-graduation work opportunities in the Czech Republic is enabling international students to convert their direction to this country. The Czech Republic has a historical ambiance with castles, palaces, libraries, museums, and buildings but has an equally beautiful natural landscape. It is a European Union State and Schengen State. Having visa of Czech Republic lets you travel the other Schengen States without a visa but only for 90 days stay. It hosts over 40000 foreign students each year making the Czech Republic a global hub and culturally diverse. The general requirements of study abroad in the Czech Republic are enumerated below:
Admissions in the Czech Republic Universities 2023 for Pakistani Students
International students have no exemption on the merit of admissions based on their nationality. However, EU, EEA and Non-EU students will have to pay full tuition fee which can be different for every program at Czech Universities. Students can study free of cost for the Czech language taught programmes. For admissions in English taught programme, the tuition fee per year can range from 1000 to 15000 USD per year. Students can apply directly at their selected university's website and receive the document's requirement according to the program they have selected via email. The documents must be translated into the Czech language. English proficiency test certificate like IELTS and TOEFL is a requirement for admissions in any English taught the program at Czech University (Visit Language Test Page of our website to Get Test Dates). Transcripts of academic record, recommendation letters and letter of intent will be required for admissions in all programs.
Students Visa of Czech Republic Procedure for Pakistani Students
EU and EEA students are exempted from acquiring a student visa if they wish to study in the Czech Republic. But Non-EU students need a student visa to study at Czech University. As soon as Czech University issues a letter of admission acceptance upon your name you can start the student visa process. For visa information, you are required to visit the Czech Embassy at your home country personally. This process must start 2 3 months before your classes are going to start at the Czech University. You will be required to provide IELTS, TOEFL certificate to prove language proficiency, your national passport that must be valid till your duration of stay, recent passport size pictures, verified documents, bank statement, receipt of paid tuition fee, receipt of paid accommodation rent and clearance letter from local police station near your residence proving you don't have any criminal record.
Latest Part-Time Work in the Czech Republic for Pakistani Students 2023
You can work up to 10 to 30 hours a week if you are studying in a university of the Czech Republic which is accredited by the Ministry of Education, Youth, and the Sports Czech Republic. If not then you must have to attain an employment card. The employment card is valid for two years. Those studying in higher education institute accredited by Ministry of Education, Youth and Sports can use their students permit as their work permit. The only exception is that the employer which has hired them will have to report to the regional office of local employment services about the employment contract as soon as you start working. You can get all types of part-time work in the Czech Republic including Language tuition, Accountancy, Uber Driving, Receptionists, Internships in Multinational Companies, Pet Care, Babysitting, Free Lancing and many more. In summer and winter vacations when tourists flood into the Czech Republic for tourism you can get tourist guides jobs which pay you highly per day.
Post Graduation Work Opportunities in Czech Republic for Pakistani Students 2023
The Czech Republic is located in Central Europe. It has a developed economy with a very low unemployment rate. Multinational companies like ŠKODA AUTO, Siemens, Hyundai, ABB, and Honeywell are just a few names out of the lot. The students can get internship positions in one such multinational company according to their academic profile and increase their chances to have a permanent job position by the end of their study program. The Czech Republic allows students to attain a permanent job in its territory and convert their study permit to employment permit based on an employment contract. International students choose the Czech Republic because of opportunities availability post-graduation.
Study Cost and Living Cost for International Studemts in Czech Republic
Living and study cost of Czech Republic is reasonable as compared to the other Schengen States. A student can expect to spend an amount of 350-750 USD per month. A dorm room will cost 150 USD per month. Living in private accommodation will cost 250 USD per month. Minimum per month wage calculated in July 2018 was 468.87 EUR per month. By this estimation, it can be said that by doing a part-time job a student can bear his/her living expenses. On average the tuition fee of public universities of Czech Republic ranges from 1000 to 15000 USD per year. By attaining Student Identity Card (ISIC) the students can get a discount on public transportation, eating places like restaurants and cafes and cinemas entry fees.
Permanent Residence
After residing in the Czech Republic for 5 years continuously on adding study time and work time you can apply for permanent residence. The permanent residence holders of Czech Republic can travel to the other Schengen States without a visa. They can have the same rights and privileges as Czech citizens except for voting rights. This residence permit will be valid till 5 years and then the intending candidates can apply for citizenship of the Czech Republic. You will be required to provide employment contract, proof of accommodation, monthly payment receipts, and clearance letter from a police station, valid passport and Bank statement proving that you can afford your living expenses.
Value of Czech Visa
The Czech Republic is a member of the European States and Schengen State. Having a student permit or work permit of the Czech Republic on your passport opens a multitude of career opportunities for you. You can not only work in the Czech Republic post graduation you can apply for a job in other countries easily and chances of your selection for job position will be high.
Travel Insurance for Czech Republic
You need the Health insurance if you stay in Czech republic. The health insurance cost can be 4000 CZK to 40,000 CZK depending on the coverage you choose. There are two types of health insurance Public and Private. For Czech public insurance you must have a job in Czech republic or must be self employed. And you can have a private health insurance if you are out of EU countries. Here you can find the best and affordable health insurance.
Latest Scholarships in czech-republic
Development Bachelors and Master Scholarships for International Students in Czech Republic
For Bachelors,Masters in the fields of Business & Management
Apply by

30 Apr 2018

Scholarships for International Students in University of Chemistry and Technology in Czech Republic
For Bachelors,PhD,Masters in the fields of Social Sciences
Apply by

30 Nov 2017

PhD Scholarship in Fishery at University of South Bohemia in Czech Republic
For PhD in the fields of Applied & Pure Sciences
Apply by

30 Nov 2017
Study Abroad Consultants for czech-republic
| | | | |
| --- | --- | --- | --- |
| | C&W Resources | +92 51 5172 033 | Rawalpindi |
| | Ed-Foreign | +92-321-4426607 | Lahore |
| | HADI CONSULTANCY SERVICESS | 03334994595; 03084636368; 03348024919; | Lahore |
X
FREE STUDY ABROAD

Free study abroad expert advice