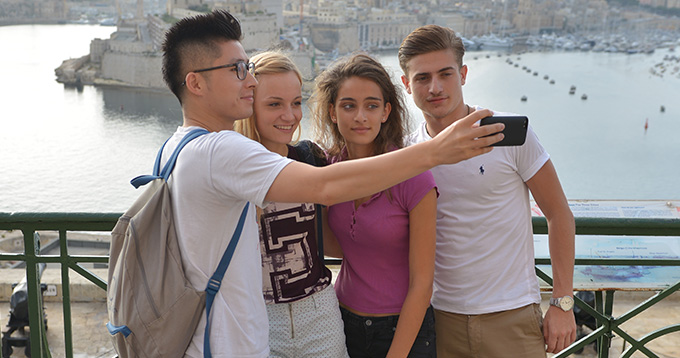 Studying abroad in Malta means getting a chance to explore the smallest yet heavily populated South European Island. The capital city of Malta is Valetta which is just 0.8 sq km in area and regarded as one of the smallest national capitals in the European Union.
The Diverse Life Style
Malta offers diversity. It is a place where traditions are blended into contemporary living. Due to the growing population of international students in Malta, the expats and the local Maltese share life together very peacefully.
Accommodation for International Students in Malta 2021
International students have a lot to enjoy in Malta. If you are admitted to any of the Maltese higher education institutes for completion of a long-term study course the first thing to find in Malta is a comfortable yet affordable accommodation. Malta, in fact, offers a variety of accommodation options for students, located around and close to the University campus, however, to comply with the budget, students are allowed to choose the accommodation which suits them best. Your study abroad consultant can also guide you to find the right accommodation
Students registered for studies in any higher education institute of Malta usually opt to live at the University Residence or associated hotels. Both of these accommodations are administered by the University or institute itself. These could be self-catered accommodation (you will prepare your own meals) or part-catered residence which offers breakfast and dinner during term-time only. Other options include living as a paying guest with a Maltese family, rent an apartment or stay in guesthouses or if your budget allows you can stay at five-star hotels. Whatever be the option the students will find an English-speaking environment. These accommodations are affordable and provide all basic facilities to the student. In addition, students can benefit from the multi-cultural environment in their shared accommodations.
Transport System in Malta
International students at Maltese universities avail all lively opportunities while living in Malta. Promptly accessible bus routes made travelling very easy. Malta and Gozo have the express line that runs from the airport. Buses are available from early morning to about 11 pm at night. Moreover, discounted bust cards are available for students. Through these Tallinja cards, students can travel in cheaper fares than when you pay on the bus. Every time the student boards the bus he/she simply touches the reader on the bus with his/her Tallinja card. A fare of 75c per journey will be deducted from their credit. However, this travel card has a monthly maximum limit of €21
White taxi service is also available in Malta; the white cab can pick up passengers from anywhere, except bus-stops. Moreover regular ferry service connects Malta to Gozo; In addition, there are regular boat services available between each island.
The Student Societies at Maltese Universities 2021
Students at their institutes can join several student societies that are generally recognized by the Senate and are a vital component of campus life. These societies offer students to take part in co and extracurricular activities. Moreover, such membership also augments the chances to develop a wide network of friends and social contacts.
Multiple Outdoor and Indoor Activities
University life has its own charm. Students can avail all opportunities of outdoor activities. They can enjoy the beach bonanza like there are several activities to perform for example: cycling tour, water sports, cruise travel, horse riding and diving etc. Private and professional guides are also available to take students on a cultural and historic tour of Malta.
The Climate is Suitable to Live and Travel
Malta enjoys a south Mediterranean climate with peculiar hot and dry summers and short and cool winters. This stability in weather condition plus the cool sea breezes invite international students to choose Malta as their study abroad destination.
The two sister islands of Malta offer scenic beauty. Students can delve into the beauty of this sun and sea destination by watching: Gozo, a tiny island with about 30,000 inhabitants and the second one is Comino the smallest island with just three inhabitants and a single hotel. Students can enjoy the beach in Comino, the Blue Lagoon, one of the renowned beaches of the archipelago.
In short, Malta is a lively and affordable study abroad destination where students could live within 1,000 euro a month in a shared residence. Students can buy bus tickets in discounted rates, and hang out in Malta to enjoy the favourite street food, Pastizzi, in just 30 cents and be a part of vibrant Maltese Carnival!
X
FREE STUDY ABROAD

Free study abroad expert advice