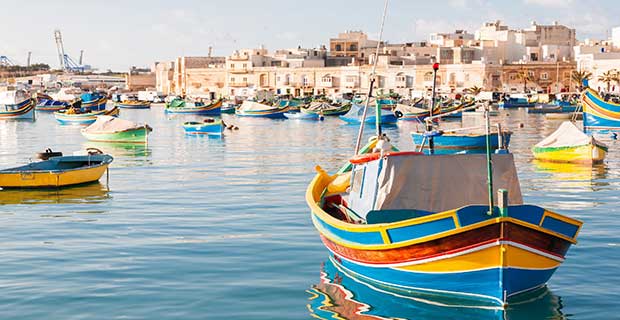 This 'Sun and Sea destination' is located right in the middle of the Mediterranean. The coastal country experiences a tropical climate of warm summers and rainy winters. The country is a favourite tourist destination for its breezy beaches and cultural richness. Moreover, this small European nation is popularly growing as a preferred study abroad destination. The tertiary education rendered in Malta is parallel with those offered at the other big European Destination. Malta is also a member of Schengen countries.
Students from European nations as well as from non-EU countries are constantly flying Malta to complete their higher education programs in Maltese universities. The reasons for this sudden changeability are in fact multiple.
Let's explore why Malta is chosen as a study abroad destination.
Higher Education in Malta 2021 for Internatioal Students
The educational system of Malta is pretty similar to the British one, therefore students who have completed their 12 years+ of GCCE or O/A level studies in Pakistan and other developing countries can easily get adapted with the academic atmosphere. Malta would be a preferred study abroad country for students from other European countries as undergraduate courses are completely free for Maltese and all European students. However, students from Non –European countries have to pay the tuition fees at all degree level and other courses. The degrees are completely recognized and the curriculum taught at the Maltese higher education institute is the same as in other European countries. Malta being a small city entails only one public university, The University of Malta. This is a very old institution. It is founded in 1592.
Around 11,500 students, including 1,000 international students from 92 different countries are currently studying at the University of Malta. Moreover, these students have the liberty to study in a full-time or part-time degree and diploma courses. Some universities also takes admission of students who take gap years between their study courses.
English Taught Study Courses
Pakistani students generally hesitate to apply in a European university because of the language barrier. Most European universities are conducting degree programs in their native language like German, French, and Italian etc. Malta is one of those European nations where English dominates as the medium of instruction. Maltese and English, in fact, are the nation's official languages and most of the courses conducted at Maltese universities are English taught. This has favoured overseas students especially from South Asian countries as these students can fluently speak, write and understand the English language.
Member of the European Union
Malta is a member of the European Union. This small island is in fact associated with Commonwealth also. The country enjoys close ties with the UK. It is a Schengen state as well as the part of the European Higher Education Area. Students from Schengen countries do not need any visa to enter Malta.
Malta Work While Study Policy
Recently Malta government has announced changes to its student visa policy. The new policy is quite impressive for Non –EU students. According to the current law, Non-EU students who are enrolled in a higher education course for more than 90 days can now work 20 hours a week. Moreover, international graduates are allowed to extend their stay in Malta for six months. These students can stay in Malta after graduation to hunt some appropriate job in the country. The policy further states that English language students on courses longer than three months can work in Malta. These students only apply for a residence permit if they extend their stay for more than one year.
The Maltese degrees are completely recognized.
The Malta Qualifications Recognition Information Centre (MQRIC) is the official degree recognition body that recognizes qualifications. It recognizes both academic and vocational qualifications. It also helps to recognize the Maltese qualifications abroad.
Exceptional Study Courses
Diverse numbers of courses are being taught at Malta higher education institutes. There are around 200 courses offered in Malta. Along with the conventional study courses, the Malta universities also render courses that are unique and are taught in very few universities abroad. These include courses in forestry, fishery, Social and behavioral sciences, and tourism and hospitality etc.
Work While Study
Maltese education system allows both part-time and full-time study programs this will help the students who are working part-time and are paying for their studies. Moreover, not only degree courses are taught in Malta, in fact, but there are also many higher education institutes which offers highly recognized vocational and diploma courses for International students. These institutes are
Malta College of Arts, Science and Technology

Institute of Tourism Studies

St. Martin's Higher Education Institute
This small island has become a study hub for part-time working students. International students from European countries do not require any permission to work while studying in Malta. However, Non-EU students like form Pakistan has to apply for a working license to take part-time jobs while studying. With the current Maltese education policy, international students can now work for 20 hours a week. Malta is a tourist destination; therefore, many part-time jobs are available for students in the tourism industry.
Scholarship Programs in Malta 2021 for Pakistani Students
Maltese Government, as well as the universities in Malta, offer a number of scholarship programs for both European and non-European international students. Some of these are in fact fully funded and an eligible foreign student can complete his degree in Malta remaining in a budget. You can check these scholarship offers at the given link.
Affordable Living and Study
Both the study and living cost is quite affordable in Malta as compared to other European countries. The tuition fees, dorm rent, food, entertainment and general living is quite economical plus the country allows the international graduate to stay in Malta and look for work if he wants to stay longer at the island.
Malta, the Island
In short, this is a small yet safe destination to study and live. The crime rate is comparably low. People are hospitable. English is spoken and understood everywhere. The scenic beaches and mild Mediterranean climate has made Malta a perfect destination to reside. A foreign student can enjoy all sorts of recreational activities especially related to marine life is offered in the country. Students can experience the Mediterranean flavours while living in Malta. Students can view the life of 16th century through historic heritages. There are Prehistoric temples underground Roman cemeteries and much more for a Malta visitor. Valletta is the capital of Malta, it has all components of modern living as well as the city is abundantly rich in historical sites to see and explore.
Good news for Game of Thrones fans as Malta is a mini-Hollywood and a grand location to film Game of Thrones episodes
X
FREE STUDY ABROAD

Free study abroad expert advice