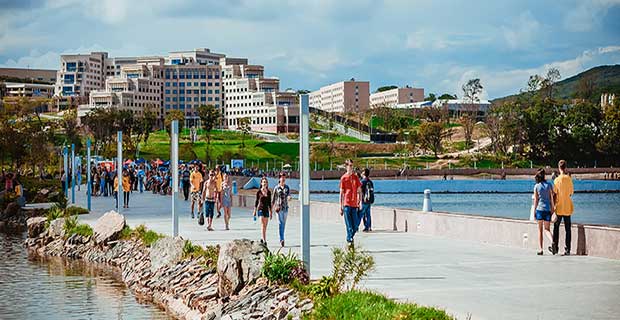 Living in a distant land for studying comes with challenges and struggle to keep up with attendance requirements and deliver satisfactory academic performance all at once while adopting the new culture and atmosphere. In this chaotic change, one certainly wants a comfortable accommodation to call it home. Choosing an apt accommodation option for studying in abroad is the most important planning step of the process which a student must execute with complete consideration and exploration of options. Russia is a civilized and economically developed country, the way of living there is similar to Europe and international students are facilitated with security, affordability and high quality education. You can find on campus and off campus accommodation in Russia according to your budget. The types of accommodation available in Russia for international students are enumerated in the guide below:
Types of Accommodation for International Students in Russia
Dormitories:
The international students invited by state universities of Russia for full time study programmes are offered an accommodation at their dormitories. The rent of dorm room is decided by universities which may differ from university to university and according to the facilities offered. You can pay rent per month or pay it at once for your whole academic year.
Why Live in Dormitories:
Majority of international student prefer residing in dormitories because of their proximity to their university, affordable rent and facilities. Living in a dormitory saves your money and time and enhances your knowledge about other cultures through your fellow students. In terms of security, dormitories are safe as they have set electronic scanners at entrances, there will be guards and 24/7 security cameras function to keep check and balance.
Cost of Dormitory:
The cost of shared dorm room is around 1,000 to 5,000 Rubles per month including utility bills.
Facilities:
Furnished room with chair, table, bed, mattress

Free internet

Communal kitchen and laundry room (equipped with electronic stove, micro wave, fridge)

Sports halls and study lounge
Restrictions:
The dormitories are university handled and to manage a large number of students belonging from different countries and cultures, the universities have set a general rules to be followed by each and every student.
Dorm room are shared by two or three students, they must keep their room tidy

There must be no damage to furniture

There must not be too much noise as it disturbs others

The supervisor of your floor must be notified of your absence from dormitory in case you have to be out of town

Smoking and drinking are not allowed and there is zero tolerance policy for that. You will be expelled at once if you found doing any of it.
Hostels:
Hostels are another affordable accommodation for international students. The hostels are owned by private student accommodation organizations and hostels are usually located in city centers near to universities and public transport. The hostels are rented by majority of international students; therefore the atmosphere is almost similar to dormitory except restrictions of time. The hostels offer private bedroom or shared bedroom facility which will be furnished.
Why Live in Hostels:
The hostels are designed to cater the needs of students belonging from various countries and they are equipped with facilities one might need away from home. The rooms in hostels are in various sizes and the security is ensured by the organizers. You can meet international students studying in various universities of Russia and share your experience with each other. The cost of hostels is affordable in comparison to facilities offered and it is a platform for adapting a new disciplined life style and getting to know students from all over the world.
Facilities:
Each room with have private kitchen and private bathroom

24/7 security system

Emergency alarms set in each floor

Study lounge and laundry room

Furnished rooms with mattress, bed, chair, table, closet

Free Internet
Restrictions:
There will be no damage to the property of hostels such as furniture, utensils, electronics and laundry equipment. The students are not allowed to drink or smoke and not allowed to make noise that can disturb others. The timings of entering the house are not as restricted as in dormitories but the students have to follow the schedule given to them by house handlers.
Off Campus Housing
Those international students who do not want to live in an on campus accommodation can find an accommodation in Russia according to their preference on their own. Usually, the students who have stayed in Russia for a year or two find private renting apartments or those students who are known to the local culture and area of the country, otherwise private renting accommodation option is not for those students who are going to Russia for the first time. The rents of private accommodation may vary from one location to another and facilities and size of the accommodation. Moscow and St. Petersburg are the most expensive cities of Russia, the cost of rent in other cities of Russia will be less expensive than these two. The private renting options in Russia are as follows:
Private Flats:
Flats are a common accommodation type in Russia. The Russian cities are urbanized and modernly architecture. Most of the Russian population is inhabited in urban cities therefore finding a one bedroom or two bed rooms flat in central city of Russia is not difficult. The rents will be high or low based on the location and its proximity to shopping centers and public transport. T is certainly an expensive accommodation type for international students.
Why Live in Private Flats:
The two main benefits are privacy and freedom. Living in communal environment is obviously not for everyone. Some students even require complete silence and solitude to focus on their studies. Living in a private flat certainly provides you this peaceful and unrushed environment. You can have your own kitchen and private bathroom and decorate your room and house as you want and invite your friends on weekends for group study or just for company.
Cost:
The rent of a one bedroom flat in Russia will be around 250 to 300US$ per month.
Facilities:
Furnished Flat

Laundry room and kitchen (equipped with necessities)

Utility bills are not included in the rent
Restrictions:
You will be asked to deposit rent of 3 months as a security I advance before getting keys of the Flat. The furniture should and owner provided equipment should not be damaged. The rent must be paid on decided date and the tenant has to follow the terms written on rental contract.
Shared Flats:
It is common for group of friends and fellow students to rent a shared flat in the central city of Russia and live with freedom as well as sharing home chore and cost of living. You can rent a two or three bedrooms apartment with facilities of common kitchen and laundry room.
Why Live in Flat Share Accommodation:
First of all the cost is shared between two and three house mates which makes it affordable. You can divide home chores between each other giving an off day to each of the house mate. You can set the rules of the house by mutual understanding and above all if one of you falls ill the others can take care of him. Moreover, you can enjoy the freedom and privacy which you want for focusing on your education.
Cost:
The rent of flat is basically dependent on the locality and facilities. On average a two bedroom flat will cost $476.00 and a three bedroom flat will cost $703.36 USD per month.
Facilities:
Furnished bedrooms

Kitchen and Laundry (Equipped with necessities)

Utility bills are not included in the rent
Restrictions:
The tenants will have to pay three months rent in advance as a security to the owner. The utility bills and monthly rent must be paid on due time and date. The furniture and owner provided facilities must be in same order when you leave the flat as they were at the time of your arrival.
Tips on Renting Accommodation in Russia:
If you are searching an off campus housing chose a reliable source of renting services.

Take assistance from international student affairs department of your hosting Russian University for renting an accommodation.

Do not commit to any renting contract which seems difficult to be followed at first.

Do not pay any amount until you have signed rental contract.

For shared flats, only move in with those house mates you know personally.

Check the condition of furniture and owner provided facilities before moving in and show it to the owners how they are so that you are not blamed for the damage of furniture and equipment you have not done.

Read the rental contract and assure there are not any clauses which hold unnecessary payment on your behalf.

Ask the renting services to fix a meeting with the owner of the accommodation before signing rental contract.

Choose an accommodation that is nearby public transport.
Top Discussions on Study in Russia

muhammad ali - Gilgit - 24 Jan 2018

StudyAbroad Admin - Lahore - 24 Jan 2018 Muhammad ashfaq - - 28 Jan 2018

nomanmughal - Gujranwala - 29 Jan 2018
X
FREE STUDY ABROAD

Free study abroad expert advice