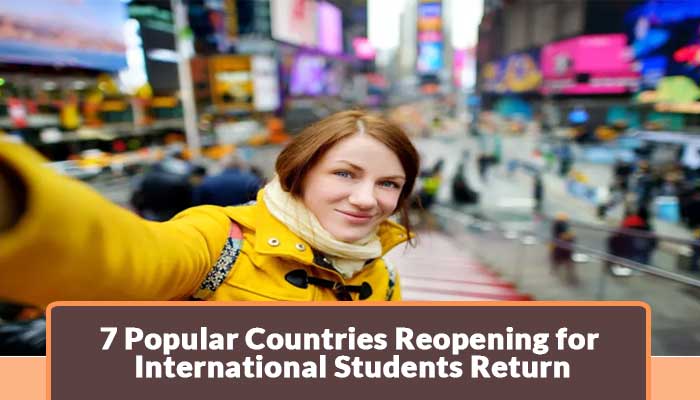 International students across the world are worried about their future and career as the world braces for the ongoing worldwide pandemic effects. Countries accepting International students across the world are gearing towards fall 2021 as they prepare for reopening their campuses for having one on one sessions involving international students. Following are some of the countries that are quite promising and are reopening for international students
According to a report approximately "Students who are seeking US and UK degrees 98% are very excited regarding heading back to their university study campuses". US announced Covid-19 exemption for international students traveling to US from August 1, 2021. Previously only certain countries like Ireland, UK or European Union were allowed exemption. Georgetown University, Stanford University and University of California among other 500 US educational institutes have announced that vaccine is mandatory for everyone returning to campus.
UK is one of those countries that recently opened to international students. UK has some of the best top universities like Oxford University and Cambridge University offering degrees ranging diverse topics along with option of customizing education plans for students according to their interests.
Uk government is planning to remove restrictions regarding covid 19 in July 2021. International students returning to UK are required to be Covid-19 vaccinated and to show proof of negative Covid 19 including sample collection date and test date on an email, printed document, email or text on electronic device.
UK has succeeded in providing nationwide vaccine application program as more than half UK population including vulnerable group is fully vaccinated. Uk provided upon its commitment for international students further by proving extra funding, streamlining the application process and providing extended visa programs for its international students.
Canada is one of the popular destination for international students. International students can travel to Canada as long as they provide negative Covid 19 result taken under 72 hours from your arrival into the country. International students must go through quarantine period upto 14 days. Students must provide documents for valid visa, study permit or have letter of introduction proving their study permit allowance in Covid 19 ready designated learning institute.
Germany is another attractive location for international students. Germany allowed entry for many international students. Germany is planning for online and in-person classes from winter semester 2020-2021.
France being another attractive location for international students as all world residents welcome. Students must show negative test result of Covid 19 being present at border.
Malaysia being an ideal destination for international study programs. Malaysia has allowed access to international students since January 1, 2021. Internationals students must follow strict protocols and undergo PCR test for Covid 19. International students must provide another test upon arrival along with 7-14 mandatory quarantine.
Malaysia is quite appealing for having Universiti Malay(UM) university that featured in top 100 of the 2019 QA World university ranking. The tuition fees is typically 1700$ to $3000 annually and international students require only $ 500 to cover accommodation and food costs.
Taiwan open for international students
Taiwan is becoming a promising location for international students as according to Taiwanese education ministry (MOE) international students can enter country upon having negative Covid 19 report and undergoing 14 day quarantine. All Covid 19 testing procedure are free and many Taiwan universities are offering financial support for international students.
Taiwan universities have been listed in 2020 Higher education ranking in Times and tuition fees for international students is very reasonable.
X
FREE STUDY ABROAD

Free study abroad expert advice