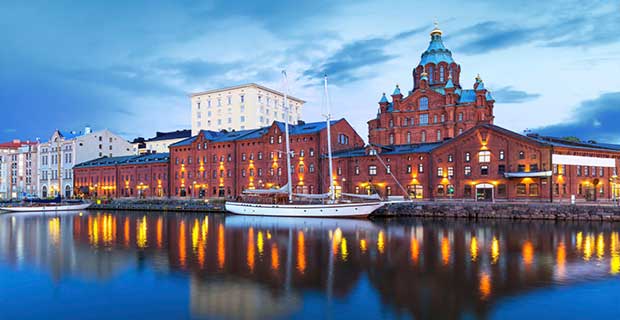 Finland is stunningly beautiful and economically prosperous country located at the farther north zone of the world. Bearing the qualities of an ideal study abroad destination, Finland has renowned and flourished education system, globally acknowledged degrees, allows part time job permission to foreign students while studying, wide ranging English taught programmes, tranquil lifestyle and specific research oriented and professional oriented distinctive universities.
The accessibility to basic rights, justice, pleasant life quality and exceptional health care facilities in Finland make it a peaceful country for living. Finland is definitely a top pick and easy choice for knowledge seekers, to get admission in universities of Finland the students have to go through a step by step procedure which is explained in detail in the following guide:
Finding a Study Programme:
Finding a well qualified and appropriate study programme in affordable Finnish Universities is the first and pivotal step. The Finnish institutes offer a wide ranging and diverse study programmes that are English taught in Finland and constituted of globally accepted curriculum structure.
There are exclusive admission centers in each of Finnish university to aid students in finding a study programme that meets their preference and that must lead them to a promising career. The career counselors are best people to take study programme advice from as they are experts and professionals.
The students who have a clear vision and a particular career goal must have already picked their choice and those who are in process of finding their goal can search thoroughly and choose the one study programme that catches their interest. After selecting the study programme, check eligibility requirements, language requirements and subject wise minimum grades requirements and send admission application at your chosen university of Finland.
Finding a Right University in Finland:
Finland has top rated and highly prestigious universities of Europe. Each university has its own set of admission requirements and merit bar for different study programmes and academic levels. The universities in Finland host a large number of international students for profession oriented and research oriented study programmes.
The profession oriented universities or universities of applied sciences train students according to the demands of job market in particular field and the research oriented universities offer research, theory and instruction based education of particular field. The specific admission requirements information can be easily availed from any Finnish university from its official website.
The university you chose however must comprise of following attributes:
Compare the tuition fee of universities and choose you find most affordable and apt

If you have excellent academic record check availability of scholarships and fee waivers

Check if the university offers on campus accommodation

If the university you chose is located in the city of Finland where you want to live.
Method of Application
The method of application to apply for admission in Finnish universities is through directly submitting documents and application at university's website or by sending the documents and application at university's postal address mentioned at its website.
You can download the pdf file of your application form and print its hard copy. For submitting application and documents online you can scan the documents and upload them as guided by the university's website instructions. The universities take admission application fee upon submitting the application and extra charges postal charges which is not refundable.
The admission fee is fixed by the universities in Finland exclusively, each university might have different admission fee according to study level and study programme.
Academic Requirements to Apply in Finland Universities 2022-23
The academic requirements vary according to your chosen study programme for each having different subject wise minimum grades merit for admission. The specific academic eligibility of admission to any study programme is explained by university in its website. In general the Finnish universities have following academic requirements for foreign students:
For Admission in Under Graduate Study Programme:
Higher Secondary School Diploma or equivalent polytechnic diplomas, to meet admission eligibility of admission to under graduate programme the foreign students have to pass Finnish matriculation examinations. The foreign students can meet eligibility of admission by passing SAT, IB, EB an RP or DIA examinations which will be administrated in Finland.
If the student fails to pass any of the above mentioned matriculation examination will not be granted admission. Interview will also be taken by the faculty member of department you have applied admission for. Essay or letter of motivation (depends on university's requirements) and language requirements are other academic requirements in Finnish universities for admission in Under Graduate Study Level.
For Admission in Post Graduate (Masters) Study Programme:
Bachelors Honors Degree (4 years Duration Study Programme) attained from an internationally recognized institute with 180 ECTS credits is accepted in Finland for admission at Masters Level.
Interview will be taken and motivation letter written in English is decisive for granting admission. A few universities in Finland might also require recommendation letter from one or two student's professors as well.
For Admission in Post Graduate (PhD) Study Programme:
Bachelors Honors Degree (4 Years Duration study programme), Masters Degree (2 years duration study programme) attained from an internationally recognized institute of your country with good grades. Work experience of 3 years at least, previous research experience recommendation letter from professor's of student are also required for admission.
The students applying for admission will be asked to collaborate with research supervisor of their chosen study field for research proposal. A letter of motivation and interview will also be taken before granting admission.
Language Requirements
The students applying for admission in Finnish universities for an English taught programme need to provide English Language Proficiency Test Certificate unless they native of an English speaking country. The third country nationals and Non-EU/EEA nationals have to meet English language requirements. For each study level there are different grades required in English language proficiency tests.
Such as:
IELTS: Overall 6.5 bands, in writing the student must have gained 5.5 bands at least.

TOEFL iBT: Overall 90-92 Scores, in writing the students must have gained 22 scores minimum.

TOEFL pBT: Overall 580 Scores, in writing the students must have gained 4.0 grades at least

PTE (Academic): Overall 59 Scores Minimum.
Required Documents
Transcripts of academic record (Certificate, diplomas, degrees) must be translated in English

Identity Document (Valid Passport of Applicant) verified photocopy is required

Fresh Photographs of Applicant

Letter of Motivation

Recommendation letters

Entrance Test Result

English Language Proficiency Test Certificate (IELTS, TOEFL, PTE (Academic), Cambridge)

Essay (written in English must comprised of 7,000 characters)

Updated CV (for post graduation admission)

Admission fee receipt
Letter of Acceptance
After meeting the academic eligibility and passing entrance exam the university you have chosen in Finland will send you an official acceptance letter for your admission. The university will ask you to respond to their offer of admission and confirm place in the university. After confirmation of admission from you, the university will send you an invoice for fee submission and details about other admission formalities to be fulfilled by you.
The official letter of acceptance of letter will be issued to you after this procedure which will be needed for student visa of Finland.
For Admissions in Spring Session:
First application period: Till 25th January

Second application period: Till 15th March
For Admission in Autumn Session:
First application period: Till 20th September

Second application period: Till 27Th December
The admission deadlines of different Finnish university might be slightly different from aforementioned above. It is better to consult the admission office of your chosen university in Finland about the admission deadlines and documents submission procedure.
X
FREE STUDY ABROAD

Free study abroad expert advice