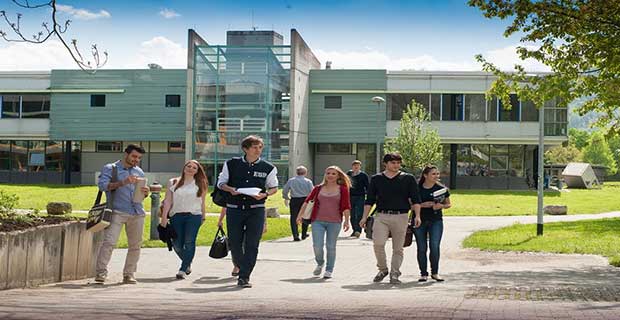 Applying to a German University needs special attention and complete knowledge. There are certain formalities which have to be fulfilled. Check the following admission requirements for Bachelor's, Master's and PhD intakes:
Admission Criteria in Bachelor's Program of German Universities for Pakistani Students 2021
Students who want to apply in a Bachelor's program in Germany should choose a German University and then apply online on the given dates. An online application form is available at their sites, where the student has to get registered and take his/her applicant's ID. You can also upload all the required documents via scanned PDF soft copies. It is mandatory to sign the application before submission.
The Entrance Criterion
To apply in a German University, the student should be qualified according to their university entrance qualification. For this, the student should possess a high school leaving certificate. This certificate has to be recognized in Germany. If for any reason you are not eligible for this entrance criterion then you have to get enrolled in the Foundation course. The free of cost preparatory courses are subject-based right according to the field of studies the student wishes to study. This one year course will prepare you to attempt the qualification assessment examination. Once you pass this exam, you become eligible with a university entrance qualification. Now the student can enter higher education institute s in Germany. Students can browse the online "Anabin" database and check their country-specific requirements. In some cases, student's school leaving certificate and previous academic performance make the student eligible for direct admission without any entrance exam. It is, therefore, essential to check your status at the institutes' website.
Te students taking admission on Scholarship programs have to follow the program specific requirements for taking admission to study in Germany
Language Proficiency
For German taught courses students have to show German language proficiency of B1 level while for English taught programs standard test like IELTS,TOEFL etc. are required wit specified marks or bands. There are few bachelor courses offered in English while a lot of Master's programs are however available in English Language
Bachelor's Intakes
In a German university, students can apply twice a year, either in the winter or in summer. Applications for winter enrolments are submitted before 15 July, and applications for summer enrolments end by 15 January. Application deadlines are different in different institutions. It is recommended to apply at least 6 weeks before the given deadline to correct any error. A formal acceptance or rejection is received after a month or two of application submission.
Recognized academic certificates and other Documents
Students have to submit their previous academic certificates of your translated and officially certified by a notary. The documents should contain a signature with an official stamp. These academic certificates generally include:
The school leaving certificates and/or university entrance qualification

The academic transcripts,

Certificates of the applicant's previous educational background related to educational or extracurricular activities

Certificates of any volunteered activity and work experience

Specific-sized photographs

Copy of valid passport

Application Fees

Evidence of health insurance in Germany

Payment receipt for the semester fee

Financial stability proofs
Prospective students will have to prove that they have enough money to support their study abroad studies. The document, "Finanzierungsnachweis," is basically a proof of enough financial resources. This document is required while you are applying for an entry visa or residence permit in Germany. Generally, applicants have to show an amount of 8,700 Euros deposited for one year.
Once you get the admission or acceptance letter from the university, you have to apply for German student visa and has to hunt for accommodation as many German universities do not offer accommodation in their packages. Next is the enrollment step that also charges some fees to provide you university-based facilities.
Admission in Master's Program Criteria for Pakistani Students in German Universities 2021
There are two categories of Master's degrees in Germany consecutive or non-consecutive. The consecutive study is based on the academic knowledge related to the bachelor's degree. While the Non-consecutive programs focus on professional development. In this case, applicants have an undergraduate degree along with some relevant work experience.
Intakes and Entrance Eligibility
Admissions in master's programs are conducted twice a year, either in the winter semester or in summer semester. The summer semester begins in March, while the winter semester starts from September.
Masters degree in Germany takes four semesters (two years).To get eligibility for entrance qualification the prospective student has to prove his/her hochschulzugangsberechtigung (HZB)-higher education entrance qualification. Generally, an undergraduate degree completed in another country is accepted as an HZB for a master's admission in Germany. However, requirements will vary depending on the course and institutions. Two eligibility tests are available for Masters Admission eligibility: the Deutsche Sprachprüfung für den Hochschulzugang (DSH, German language examination for university entrance) and the DaF (Deutsch als Fremdsprache, Test of German as a foreign language). The DSH is offered only at various German Universities, while DaF can be taken at centers in more than 90 global countries.
The student should check the right test which is accepted by the universities you want to apply to study a master's in Germany. Sometimes the University department offering the program sets a minimum number of credits in specific fields of study and the student as to earn those credits to take admission in the Master's program. All information is available at the university's website.
German universities generally use a mutual platform, UniAssist.de to offer their admission. Students can create a personal account at this site to choose their preferred master's course. Students can also upload the scanned application and documents at the site. However, some universities do not follow this trend and work on their own online application platform to receive the application and other processing. In such cases, students have to directly access the university's website for relative information.
Requirements for Master's Program
The other documentation and other submission formalities are the same to study master's in Germany as of the bachelor's program. The student has to provide sufficient financial proofs, apply for a German student visa, search an accommodation and finally has to buy suitable health insurance that covers your period of stay in Germany. Some masters program also ask students to submit
Curriculum Vitae

Personal or motivational statement

Reference letters
However, some institutes also conduct an interview session over Skype.
PhD Admissions in Germany
Types of PhD in Germany
, There are two types of PhD programs in Germany
The traditional PhD: Students will do research project independently under the guidance of an expert supervisor. The candidate chooses the institution for research. It could be a university or organization.

Structured doctoral programs – these are international English taught programs. Students will do additional training alongside the thesis. Research is conducted in collaborations and placements with external research institutes.
Intakes and Duration of PhD Program
Admission intakes are open twice a year:
The Winter semester runs from 1 October to 31 March

The Summer semester –runs from 1 April to 30 September
The length of your traditional PhD is 4-years and for a structured doctoral program is generally 3 years.
The German PhD process
Whether you visit a study abroad consultant or follow the university instruction, you have to undergo the following process:
PhD fees
PhD tuition is free in all German public universities for up to three years of study. However, students will have to pay tuition fees after three years that is, beyond the standard time-span for your PhD course.
PhD students also pay a semester contribution of €150-200 as administration,, student governance and student services payment.
Application Requirements for PhD Program
Students who apply for a traditional PhD have to contact a supervisor to supervise your thesis.
Applications for structured PhDs are submitted directly to the institution or graduate school.
Entry requirements
Completion of a minimum of eight semesters of academic study with a final qualification equivalent to a German Masters degree

Submission of previous higher education degree/s , recognized by the Dean's Office or Board of Examiners at your university.

Highly-qualified international students with academic excellence could be admitted onto a PhD with a graduate or Bachelor degree in the fast-track PhD program. In this case, students have to pass an entrance examination.
Language requirements
The language requirements for a PhD in Germany will depend on the program applied.
Structured doctoral programs are taught in English. Students have to qualify an English language proficiency test, such as the TOEFL or IELTS with some set scores.
In Traditional PhD courses students write the thesis in German. However, some institutions accept the thesis in other languages. For German-taught PD courses, students need a German language proficiency proof certified through DaF or DSH.
Motivation Letter
Motivation letter is a personal statement by the student stating the main objectives, accomplishments and future prospects, that motivate you to choose this specific doctoral program. You have to connect your future studies with your past education. Motivation letter should be written in less than 500 characters.
Students have to provide the financial stability proof as in case of master's and Bachelor's program
Application process
For Traditional PhD program students require a statement from the doctoral supervisor stating their intent to supervise your thesis

Students have to submit all their certified copies of certificates and academic transcripts from previous degrees

Students should provide recognition of your certificates and degrees from the Dean's Office or University Board of Examiners

Academic reference letters from at least two professors who have previously taught you

Interviews

Structured PhD programs sometimes conduct an interview session with the candidate. The supervising committee takes the interview.

The selected supervisor will take the student's interview in case of traditional PhD program Interviews for international students are conducted over Skype.
Like the undergraduate or graduate admission, once you are selected for a PhD program you have to apply for a German Student Visa, health insurance and have to search proper accommodation in Germany
X
FREE STUDY ABROAD

Free study abroad expert advice