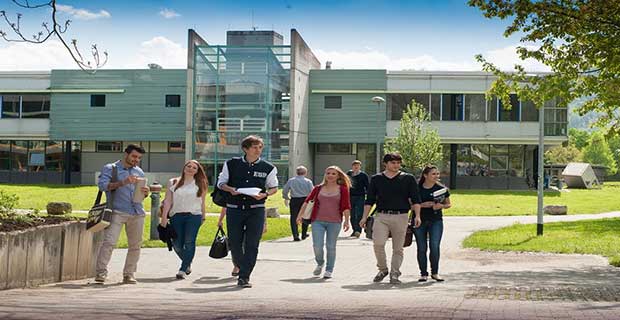 Eligibility Criteria To Apply For German Universities
There are some requirements to become eligible to study in Germany. Here is a complete information that can help a Pakistani student to get in higher education sector in Germany. Educational institutes in Germany require the followings from students to be considered eligible:
Students either applying for admission in undergraduate/ postgraduate degree program must have minimum 50% marks in previous degree
School-Leaving Certificate Recognition
Pakistani (non- European) students have to submit a higher education entrance qualification that allows admission to German higher institutes. It means your current degree should be recognized in Germany. This qualification to enter in a university is known as 'Hochschulzugangsberechtigung'. Check if your certificate is recognized in Germany
Short Preparatory Courses
If you are ranking in one of the following three categories
Your degree is not recognized in Germany

For recognition of early education

To get specific field related knowledge
Short courses are as followings
1. Propaedeutic Courses
This course is offered to those students whose degrees are recognized in Germany, but want to prepare themselves for specific field such as medicine and engineering.
2. Test for Academic Studies (TestAS)
This test is offered to international students who want to secure admission in German higher educational institutes, as it increases the chances of admission there. This test is offered in Goethe institute Pakistan for Pakistani students to secure admission in Germany. Goethe Institute is a licensed test centre to conduct TestAS for admission in German higher institute.
3. Foundation Courses (Studienkolleg)
Studienkolleg is a prep college in Germany designed to prepare incoming international students who are willing to study in Germany but whose qualifications don't meet the German education system criteria. This course program is specifically offered to those students whose education is not recognized in Germany. This one year course program might have a fee if registered in a private German university.
German Language Requirement To Study In Germany
German universities offer most of its degree programs in German language, some also offer in English and some of the German universities provide option in hybrid (English + German). For German and hybrid language courses students have to provide a proof of language proficiency with the following
Test of German as Foreign language (TestDaF): A2 level is required

Goethe Institute German Language Diploma (GDS): A2 level is required
English Language Requirement For Admission In German University
For the study programs offered in English and English-German language, Pakistani students have to appear in IELTS, TOEFL, Language Cert or Cambridge English test with the following scores
TOFEL ibT: 70-80 points

IELTS: 5.5-6 bands
Admission Requirements To Study In A German Higher Institute
The admission requirements to German universities vary and depend upon the channel student select to proceed for admission application. Here are se general/ compulsory requirements to enroll in a study program in Germany
Application form (soft and hard form)
To apply in German universities, student shave to apply in both ways online as well as have to send hard copy of application form. There are two options to get hard copy of application, may get by the direct download or upon receiving a verify mail from International office of the university to get application form.
Certificates/ General Educational Documents
Educational certificates must be certified from an authorized person and you have no need to submit original. List of certificates is as follows
School leaving certificate

Official academic records

Language certificates (no need of certification)

Certificate of other volunteer activity

CV

Passport photo

Passport photocopies (2)

Motivation letter

Recommendation letter

Essay
Proof of German language proficiency
If applying for the German and Hybrid taught program
Proof of English language proficiency
If applying for the English taught and hybrid program
Proof of Health Insurance
Anyone going to stay in Germany and applying for a study program have to submit a proof of German health insurance. Two types of health insurances are offered by Germany
| | | |
| --- | --- | --- |
| Title | Public Health Insurance | Private Health Insurance |
| About | Students under the age of 30 enrolled in a degree program at a German university, can choose to register with a public health insurance. | Students over 30 years old, language and preparatory course students, PhD students, and guest scientists, only have the possibility of getting private health insurance. |
| Health Insurer | Barmer GEK, TK – Techniker Krankenkasse | Dr. Walter is a popular private health insurance provider |
| Cost | €120.34/ month | €300/month |
University Application System In Germany
Germany has put forth some restrictions for university admissions as the number of applications exceeded the number of available seats. The restrictions have been put in place to avoid overcrowding in universities and have been named "Numerus Clausus" or NC. Moreover, Numerus Clauses are of two types, as mentioned below.
Central Numerus Clausus
Central Numerus Clausus also known as Zentraler Numerus Clausus is the restriction applied nationally is all German universities. Following subjects are included in centrally restriction.
Medicine

Veterinary medicine,

Dentistry

Pharmacology
Local Numerus Clausus
Local Numerus Clausus is applied to specific universities. The universities applies its own restrictions depending upon different programs and applicants origin.
Categories Of Applicants For Pakistani And International Students:
First Category of Applicants:
Applicant does not contain a German university recognized entrance qualification.

Applicant belongs from a non-EU country.

Candidates must ensure that the university is a member of Uni-Assist.

If the university is a member of Uni-Assist, applications will be completed through Uni-assist

However, if the university is not the member of Uni-assist, applications can done directly.
Second Category of Applicants:
If the chosen program belongs to a local Numerus Clausus.

Applicants need to check if university is a member of Uni-assist.

If yes, applications will be done through Uni-assist.

If not, direct applications will be submitted.
Application Process For Pakistani Students To Study At A German HEI
Candidates who have met the eligibility criteria to apply for higher education at a German university are advised to fulfill the admission applications vigilantly. Candidates are informed to follow the admission guidelines strictly to avoid any inconvenience. Here we have mentioned the detailed application process to apply at a German university.
Channels To Submit University Application For Pakistani Students
There are two eligible channels through which students can apply in a German university.
Uni-Assist

University directly
However, it is to inform that there are different categories of students applying for admission at German universities. For each category of students, different channels work accordingly.
Applications Through Uni-Assist
Being a Pakistani or an international student, you will apply through Uni-Assist if the university you desire to apply is a member of Uni-Assist. Uni-Assist provides an opportunity for applicants to apply at various universities at one time. Candidates can check if their desired university is the member of Uni-Assist at https://www.uni-assist.de/.
Following are the steps through which you can apply at Uni-Assist portal.
Register yourself and confirm your registration.

Make an online application form in application portal with the required data.

Provide the complete required details of your personal and academic background.

Select the University of your Choice And Desired Degree Program.
Upload the following relevant documents with your application.
Printed and signed Application form

Sample work

Curriculum vitae

Letter of motivation

Passport copy

Proof of Language Proficiency Test

Study certificate

School certificate

Other extracurricular activities

Certificates of any Voluntary work

Any other documents of experiences mentioned in the Curriculum Vitae.
Submit your application.
Note: Uni-Assist only receive and accept applications if you have completed the required sections. Furthermore, candidates are also required to submit a hard copy of application at the address of Uni-Assist.
Uni-Assist Application Status
If candidates have submitted applications through Uni-Assist, the application will be reviewed in two stages.
Pre-check by Uni-Assist.

Review by the respective university.

Candidates can get the application status as:

Uni-Assist will generate an email regarding application's pre-result checks.

In case of any missing documents, Uni-Assist will notify the applicant.

Upon the successful review by Uni-Assist, application will be forwarded to the respective university for the final review.

Uni-Assist will notify the applicant on passing pre-stage check.

For the final review, upon successful review, university will send a letter of acceptance to the applicant or a letter of rejection if the candidate isn't found fulfilling the requirements.
Direct Applications To Universities
To submit your application directly to the university follow the mentioned procedure.
Check the application form of the respective university at its official website as "Application Form for Admission to German University for International Applicants with Foreign Academic Qualification".

Select your desired academic program.

Enter your personal data as per your passport.

Provide your portal address.

Provide proofs of your complete academic background.

Provide a proof of a language proficiency test.

Submit TestAS results.

Proceed the online application.
Candidates are required to submit their application in hard copy as well. It is essential to write your applicant's registration number on your hard copy application. To send your hard copy application you can use regular post, FedEx, DHL or other.
Direct Application Status
Candidates who have applied directly can expect the following.
Applicant will be notified upon receiving the application by the university.

Another notification upon receiving a hard copy of application by the university.

Within the time frame of four weeks (approximate), candidates are informed whether they have been accepted or rejected.

In case, if you do not get any notification in four weeks you can contact International Office of the respective University.
Deadline For Applications
Universities have set some deadlines for applications to inform students whether they have been granted admission or not. The deadlines for applications are as follows.
For winter Semester:
Acceptance letters are sent during August and September.

Rejection letters are sent during September and October.
For the summer semester:
Acceptance letters are sent in February and March.

Rejection letters are sent in March and April.
If you haven't received either of the letters in the prescribed time frame, you are advised to contact the international office of the respective university to inquire regarding your application status.
X
FREE STUDY ABROAD

Free study abroad expert advice