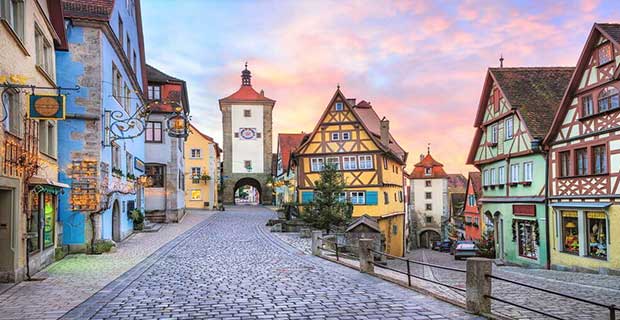 In order to achieve a successful career, studying abroad is now prevalent among students. It has now become the norm for universities in different countries to accept a number of international students from all over the world. When it comes to choosing countries for achieving higher education abroad, Germany is not behind.
Germany is one of the popular destinations for achieving higher education for international students, including Pakistani students as well. It has been ranked fifth for receiving the highest number of students from all over the world. According to recent statistics, Germany welcomed 440,564 international students in 2022. Among many other reasons, the low tuition fee in German universities is the major reason for Germany's popularity.
Why You Should Study In Germany
Germany is among the top destinations for pursing higher education abroad. Following are some of the reasons that will determine why you should study in Germany.
Low Tuition Fee
Germany is one of the most preferred destinations for studying abroad purpose. Students from all over the world look forward to Germany due to its low to no tuition fee. It is one of the major factor that helps international students to study their desired degree program.
Scholarships In Germany For Pakistani Students
Apart from the low or no tuition fee, universities in Germany offer various scholarship to students with an outstanding academic background. Under the supervision of the German Academic Exchange Service (DAAD) many government funded scholarships are offered to national and international students. Moreover, there are different NGOs that provide different scholarships and financial aids to students. Top scholarships in Germany that are known worldwide are mentioned below.
Work Opportunities In Germany For Students
One of the major reasons for Germany being highly desired among international students is the facility of working while studying in Germany. International students are allowed to work for up to 20 hours per week during their semester or 120 full days/ year. Students can work as:
Tutors

Administrative staff

Delivery boy
Affordable Accommodation In Germany
Germany welcomes international students from all over the world. Apart from providing high quality education, Germany offers great accommodation services to its students. Moreover, the accommodation costs are economical as well that are bearable for all type of students.
Cities in Germany have been ranked as the most livable cities in the world making it more comfortable for international students and help them to feel at home. Due to its location, students have various perks to move from Germany to any part of Europe.
Excellent Research Opportunities
Apart from the low tuition fee in Germany, internationally recognized universities provide an excellent opportunity for international students to perform feasible research and ace in their field. The adequate research provide an insight of the advanced knowledge with a life altering experience.
Learn a New Language While studying In Germany
Once you learn German language it can be extremely beneficial for international students especially for those who look forward to seeking employment in Germany or abroad as well. German language is known worldwide and due to its most stable and strong economy, companies value individuals who speak German language resulting in higher employment chances.
Top Universities in Germany
Germany is a hub of top universities ranked by Time Higher Education (THE) and QS. There are 8 German universities ranked among 100 world's best universities by THE. The top universities in Germany accepting international students according to the Times Higher Education are mentioned in the table below.
| | | |
| --- | --- | --- |
| Rank in Germany | Global Rank "THE" | University |
| 1 | 30 | Technical University of Munich |
| 2 | 33 | Ludwig Maximilian University of Munich |
| 3 | 43 | Heidelberg University |
| 4 | 73 | Charité - Universitätsmedizin Berlin |
| 5 | 86 | Humboldt University of Berlin |
| 6 | 86 | University of Tübingen |
| 7 | 89 | University of Bonn |
| 8 | 91 | Free University of Berlin |
| 9 | 99 | RWTH Aachen University |
| 10 | 114 | University of Freiburg |
X
FREE STUDY ABROAD

Free study abroad expert advice