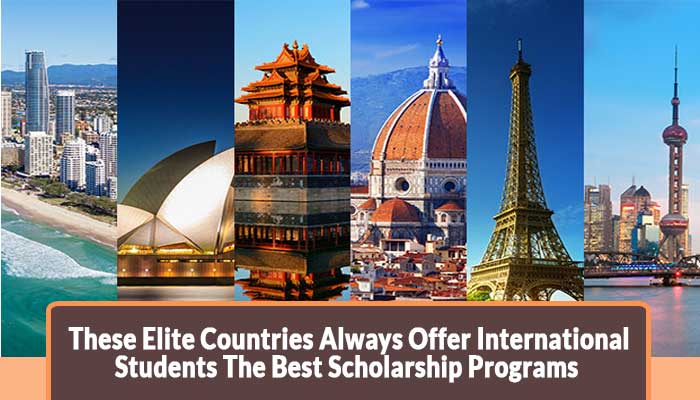 Because of its life-changing experiences and worldwide recognition study abroad has become the most substantial option for many students. The idea of study abroad is getting flourished in Pakistani students too. A survey has reported that every year 4,000 Pakistani students start their higher education careers in several worlds' top-ranked study abroad destinations. Where Pakistani students show their keen desire to start their higher education abroad, at the same time, many study abroad destinations also encourage Pakistani students to make their dreams possible and this has become possible because of several scholarship programs.
Countries that have the outsized number of Pakistani students are comprised of the USA, China, Australia, and other European countries. Here we are going to discuss the elite countries that always offer scholarship opportunities to Pakistani students to start their higher education careers. Students who are interested to start their studies in 2021 or 2022 are recommended to explore the given list of the elite countries that are not only best for higher education but are also the prominent figures in assisting international students through several scholarship programs:
Because of its advanced learning techniques, groundbreaking technologies, top-notch infrastructure, and outstanding faculties the USA has become the most preferred study abroad destination. Today, the study in the USA has become easy because of the scholarship assistance. You can find all the USA scholarship programs here to choose the better options for you.
After the USA, the destination that attracts international students a lot is the UK. Higher education degrees from UK universities can offer graduates unique opportunities to boost their careers globally. Some UK universities are indeed highly expensive. But, at the same time, UK scholarship programs have made this very simple to pursue higher education there.
When it comes to listing the world's best study abroad destinations, no one can eliminate Australia from this list. Today we find 08 Australian universities among the top 100 QS World University Ranking. Moreover, the exceptional Australian scholarship opportunities attract enormous international students to start their higher education in Australia.
Among the European countries, France is the one that is quite popular as the best study abroad destination. French embassy and other French government and private organizations are contributing a lot to offer international students French scholarship programs to make their higher education possible in France.
While exploring the list of the most valuable and reasonable study abroad destinations in Europe, Germany comes at the top of the list. First of all, we see that almost all the public sector universities in Germany offer tuition-free education. Moreover, both private sector, as well as public sector universities in Germany, offer exceptional German Scholarship programs that are enough to not only complete the higher education but to cover the living expenses as well.
Get All Scholarships Updates
Pakistani students who are interested to start their higher education in 2021 or the coming year 2022 are offered the best wishes. At the same time, we recommend Pakistani students choose any of the above-mentioned elite countries because they take care of your financial requirements. Moreover, we also advise students to keep visiting our scholarship section where you can find day-to-day worldwide scholarship updates.
X
FREE STUDY ABROAD

Free study abroad expert advice