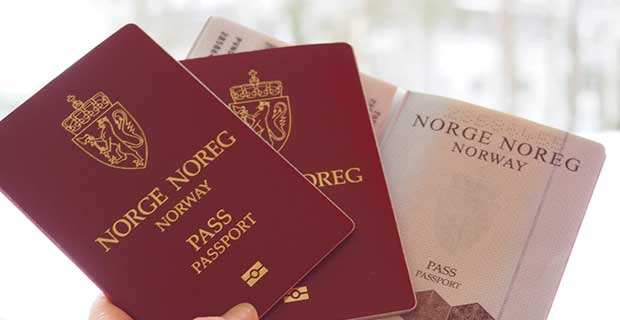 If you're planning to study in Norway for more than three months then you have to apply for Student residence permit, otherwise you can study a course of three months or less on a regular Norway visit visa. In order to get student residence permit for Norway you must be accepted as a student by a Norwegian college or university. After receiving your acceptance letter from a Norwegian college or university you should contact or visit Norwegian Embassy in Islamabad for further information on student residence permit Application.
With this student residence permit, students can work part-time in Norway (20 hrs/ week)
Documents Required To Apply For Norwegian Study Visa
Pakistani students have to submit the following documents in hand of a person at embassy with the application form
Passport and a copy of all used pages in passport

Signed signature visa application form

One recent passport size photograph with white background

CNIC

Family registration certificate

Letter of admission from a Norwegian university

Matric and intermediate certificate attested from local board

University's education transcripts attested from HEC

Bank statement of NOK 137 907 for a year from a bank open in Norway or a statement from Norwegian university declaring that you have deposited the same amount in the university's account open for your study purpose

Document stating that you have a place to live in Norway (written rental contract approved by the house owner)

Updated CV
How To Apply For Norwegian Study Visa From Pakistan
Here is a step by step application process for Norwegian visa applicant from Pakistan that you have to follow
Step-1: Online Registration of Application
Step-2: Prepare Hard Document File
After successful submission of application you will get a verification mail with your application, signature cover letter and payment receipt

Take a print of this signature letter, sign it and visit one of the visa application centers of VFS in Islamabad, Karachi or Lahore
Step 3: Visit VFS Office
Before visit, book an appointment by calling the VFS helpline, +92 (0) 518439383 to hand in application (it may takes 15 days to get an appointment)

Hand in the documents along with application in person

In Pakistan visa is processed by the external service provider VFS Global so you have to pay the service fee 30 euros per application (3748 PKR) and it is liable to change with change in European commission exchange rate

VFS will send your documents to the Norwegian embassy in Abu Dhabi and your passport to the Norwegian embassy in Islamabad

Electronic application will be sent to UDI by the VFS from Abu Dhabi

After visa application processing, all the documents will be returned to you via visa center
Processing Time For Norwegian Study Visa From Pakistan
You can check here for Norwegian visa processing time as the applications are processed by UDI's site
Visa Application Results
You will get a notification of being selected or rejected by the Norwegian embassy through an email or a call or you can also get results from the VFS office where application was submitted

If you are granted by a visa, you will get a stamp sticker on your passport that will allow you to travel to Norway.
What to do after visa rejection: unfortunately if your visa has been rejected you will get a notification with detail of visa rejection reason, you can also appeal for visa decision
Book Your Flight
After receiving a study permit to Norway, book a suitable flight and travel to Norway.
On Arrival to Norway
After arriving in Norway you will have to show follwoings at the port
Your passport with the entry stamp/ sticker

Your purpose to stay in Norway
X
FREE STUDY ABROAD

Free study abroad expert advice