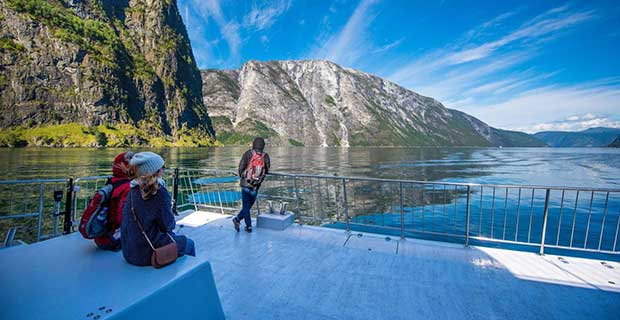 Norway, also known as The Kingdom of Norway, is one of the most eye-catching countries in the world and if you are interested in skiing, you can do that there for around 6 months a year. Although, you should check that you are comfortable with cold winters. Whether you are driving or taking a rail trip, the stunning scenery which stretches for miles and miles is breathtaking. You have everything from majestic mountains, waterfalls, glaciers and green hillsides and the wonderful fjords, driving on the national tourist routes will provide you with many memorable moments. Getting off the beaten track is so easy. Norway is considered as a favourite study abroad destination. Here are the reasons why to choose Norway for higher studies
Higher Education Criteria in Norway 2023 for International Students
Norway homes 9 universities, 8 university colleges and 5 scientific colleges owned by state. Norway also has a large number of private sector higher education institutes running under public funding.
The Norwegian institutes of higher education comprise all of the institutions and programs that are accredited. All higher education institutes are state-run except some private university colleges. Norway is following the objectives of the Bologna process in the European Higher Education System since 2003, With the introduction of this new system it's quite easier for international students who to complete all or part of their education in Norway. In addition, they can obtain recognition for their qualifications in other countries.
Inducting international students, as a part of an exchange program or a full degree program, both are considered as an asset for the institution itself, and asset for increasing the quality of the Norwegian institutions and education. A wide variety of courses and study programs are taught in English. Institutions in Norway are very few and relatively small compared to other universities in many other countries in the world, but they keep high standards and deliver the best quality education. In some fields, Norwegian institutions or academic communities are even considered to be in absolute world class.
Work While Study
Yes, you can work while studying in Norway and earn some money to pay for your living and/or studies. Most of the international students holds part-time jobs while studying in Norway. It is good to learn and practice your Norwegian to increase your earning. However, you should be aware that there are restricted time period to work during studies especially for non-EU students.
Work While Study Policy
A Student Residence Permit itself does not allow you to work while study, but after receiving a Student Residence Permit you can easily get a part-time time work permit which allows you to work 20 hours/week
Beware that renewing your Student Residence Permit will not renew you part-time permit as well, after renewing your Student Residence Permit you have to apply individually for the part-time work permit renewal.
Health Insurance
Medical services in Norway are of extremely high standards. Being a student in Norway you are ensured to be provided professional medical treatment no matter which part of the country you are living in. Most of the time, treatment is free if certain preconditions are met. These preconditions, however, vary depending on your current nationality and length of stay in Norway.
Some institutions provide on-campus health/medical services. The semester card which you receive by the institution may entitle you free medical treatment at the institution's student health/medical services. This treatment usually does not apply to medicines or to medical tests taken out of campus. The cost of medication is covered only if you are hospitalized, or suffering from a serious disease, or is a member of the Norwegian National Insurance Scheme, or have a European Health Insurance Card or any another form of social security.
Latest Scholarships in Norway for Pakistani Students 2023
Most Norwegian institutions have various agreements with foreign institutions of higher education. These agreements are mostly for some exchange students, researchers or teachers. There are such national programs that offers scholarships and other types of funding for international students wishing to study in Norway. Certain restrictions apply for all these programs. In addition, there are various scholarships available offered by private and non-profit organizations.
Study Cost
Completing a university degree program in a Study abroad destination is considered to be an expensive expenditure and tuition fees usually makes up the huge part of the cost. Well, this is not the case in Norway where public funding secures free education for both Norwegian and international students. All of the Public Norwegian Universities and University Colleges provide education for free of cost, and yes, this also applies to international students. Private institutions do charge tuition fees for their degree programs, but the fees are comparatively lower than the cost of studying in other western countries. Also, international students are treated equally as the Norwegian students, and are not charged with any higher fees.
X
FREE STUDY ABROAD

Free study abroad expert advice