consultants in M.Bahauddin
Become top Consultant
2nd Floor, Handlana Plaza, Near German Chowk, Mandi Bahauddin

http://www.edwiseoverseas.org

Railway Road, M.B.Din

http://internik.com.pk

Khuda Bakhsh Road. Model Town B Block

https://www.visaggiointernational.com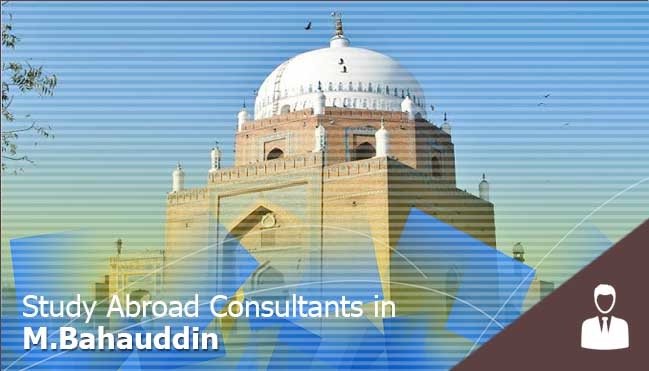 By studying in abroad, Pakistani students can obtain diverse benefits which are life changing and extremely productive. Personal growth, career opportunities, top notch education quality and global academic and professional exposure are few of the studying in abroad benefits that Pakistani students require for improving their quality of life and development of Pakistan. Ever year thousands of Pakistani students try to study in abroad but lack of visa information and absence of professional assistance in documents arrangements causes failure in the process. For the purpose of studying in abroad, the registered consultants offer professional guidance to Pakistani students.
Study Abroad Consultancy Services for Pakistani Students
The international education sector has become exceptionally competitive and demanding because of increase in admission applications from all around the world. In this situation, a slight mistake in required admission and visa documents or delay in application submission causes your chance of admission selection and the place is given to second eligible candidate on the list. The study abroad consultants have professional expertise in handling admission and visa requirements. They are well aware of application submission timelines, requirements and visa criterion. They will prepare you for each of the phase in time and execute each step with professional expertise resultantly your chances of admission and visa attainment will increase. Moreover, the studying in abroad process is time consuming and expensive, without formal guidance you might up wasting your hard earned resources on scams. Taking services of registered study abroad consultants is right decision at many levels.
Information about Study Abroad Consultants in M.Bahauddin
The Pakistani students who belong to M.Bahauddin City can access to study abroad consultants agencies registered in their area through our website. We have gathered the list of study abroad consultants in M.Bahauddin City below with their complete contact details.
Consultants List
View Complete List
X
FREE STUDY ABROAD

Free study abroad expert advice