Study abroad in Hungary for Pakistani students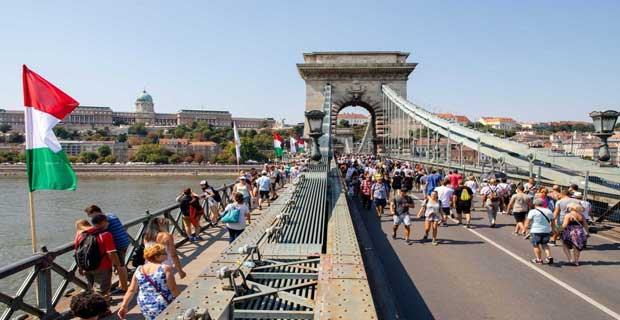 Hungary will catch your attention several times on internet while searching for a most suitable European country for studying in abroad. It has been ranked highly by many international student surveys as favorite study abroad destination. It is offering high quality education with affordable admission fees for undergraduate, and post graduate programmes in plethora of courses. The courses are available in English/German and Hungarian languages. It is a European Union member and a Schengen State and anyone who has completed his/her degree from Hungarian University can apply for a 9 months duration resident permit to find employment .It is a safe country with stable economy and Pakistani students can apply for a PR after graduating if they decide on settling there. Below is a list of factors derived with inclusive information and scrutiny to help you navigate in choosing Hungary for your study abroad destination.
Hungarian Universities have adopted the Bologna system of education:
The higher educational regulations in Hungary are set according to the Bologna process which is functional in all European Higher Education Areas. This means that degrees awarded in Hungary will be more widely comparable on the international market.
ECTS (European Credit Transfer System):
You can transfer your ECTs throughout the European Union Countries. It is a standard qualification system which is accepted by all international and national higher education systems. It is based on learning and its associated work load.
An Education System that will make you Skillful and Knowledgeable:
The ECTs and Bologna system of education has ensured uniformity of education in all European countries. Anyone studying in a Hungarian University will have same standard of education as in UK but in much affordable fees. You will come out as a skillful and academically competent person and will be able to enter your professional field as a learned. The Hungarian Universities offer research based education and have adopted modern and latest teaching methodologies.
Hungary has 4th Most Affordable Fees Structure in Europe:
Almost 3000 to 5000 Euros are required for per annum fee. You can look for scholarships options or fee grants option because Hungarian Government is running several of them.
You will get International Exposure and Opportunities While Study Hungarian Universities:
People opt to study abroad to get international acclimations and exposure. Hungarian Universities are giving it all. Hungary is home to well flourish multinational firms. The recruiters are always in search for able employees. During your final year of education you might be able grab job position according to your aspiration. Degrees from a Hungarian University will open doors of many opportunities at different career dimensions that you were still unknown to before.
Easy Admission Process in Hungarian University for Pakistani Students:
For admissions in Hungarian Universities the main requirements are high school diploma or bachelor degree (for a graduate program), proof of language proficiency and entrance exam ( in some institutions). The candidates have to follow the deadlines of application submissions at their desired Hungarian University.
Student Visa Process in Hungary for Pakistani Students 2023:
According to DailyNewsHungary, it was hosting over 28 thousand international students until 2017. Half of your work is done after acquiring an acceptance letter. The Hungarian student visa process is simple and easy. They will ask for a bank receipt of transfer of tuition fee payment other than acceptance letter and other documents requirement are valid passport, reserved ticket and a health insurance card. The student's visa is processing within 60 days.
Estimated Student Accommodation and Living Expenses for Pakistani Students:
Almost all Hungarian Universities offer dormitories facility to students in just 150 Euros approximately per month. Other private accommodation options such as;
Private apartment will cost 250 to 300 Euros

One bedroom Flat will cost 200 to 250 Euros

Shared Flat will cost 350 to 600 Euros ( the rent and bills can be divided between roommates)

Studio Apartment will cost 600 Euros
General living expenses with accommodation and living expenses including food transport and entertainment you will have to spend 450 to 500 Euros per month/ per person which is quite low coast in all over Europe.
Availability of Part Time Jobs in Hungary During Study Abroad:
Pakistani students are allowed to work in Hungary for 24 hours per week. There are plenty of part timke job options in Hungary. It is an economically developed country and host to many multinational companies which offer part time, full time work to students as interns. It adds value to their CVs and gives them utilizable experience for their future career. The students having any special skill like photography, social media handling and content writing can earn an adequate amount of money to support their daily and monthly expenses.
You can apply For a PR visa After Completion of Your Degree in Hungary:
The most prominent attraction that is deriving hundreds of Pakistani students to study in Hungary is PR Visa Availability after graduating from Hungarian University. You can convert your study visa to work visa before it expires. Hungarian Government allows a 9 month duration post study residence permit to all of its international graduates.
Hungary Allows residence Permit On the Basis of Employment after Graduating from Hungarian Universities:
During this duration the students can find a job or start a business and then apply for national residence permit. It is not an expensive process but in fact it is highly facilitating for individuals who want to settle in Hungary. After getting your national residence permit on employment base you can avail same facilities as Hungarian Nationals. The Hungarian Government allows citizenship after 8 years of stay as well if the individual has a clean criminal record. Hungary is one of few European countries which have a very flexible visa policy and citizenship policy. It is permitting the spouse, parent or kid of residence permit holder to stay in Hungary.
Medical Health Insurance of Hungary for International Students
Hungary is the part of the Schengen area. That allow you to enter the EU countries. And one of the important visa requirement is to have the health insurance. You must have health insurance that covers your medical illness and accidents during your stay in Hungary. If you want the health insurance of Hungary then here are the best packages.
Latest Scholarships in hungary
Károli Christian Scholarship for International Students at Károli Gáspár University, Hungary
For Bachelors,PhD,Masters in the fields of Computer Science & IT
Apply by

27 Apr 2023

Avicenna Scholarship Program for International Students in Hungary
For Bachelors in the fields of Art & Design
Apply by

10 Mar 2023

Avicenna Scholarship Program for International Students in Hungary
For Bachelors,Masters in the fields of Art & Design
Apply by

15 Mar 2023
Study Abroad Consultants for hungary
| | | | |
| --- | --- | --- | --- |
| | BMR Consultants | 03054646329 or 03164363329 | Lahore |
| | C&W Resources | +92 51 5172 033 | Rawalpindi |
| | Career O'clock | 03335414478 | Islamabad |
X
FREE STUDY ABROAD

Free study abroad expert advice